This guide is an attempt to pick out the best hotels in Spain in key destinations. Rural hotels in beautiful places in Spain, luxury hotels in Spain, cheap hotels, hotels with charm, parador hotels.... Spain has them all.
Our guide to hotels in Spain is not conditioned by commissions from hotels, and is therefore objective and independent.
New: Spa hotels in Spain
Check out our special selection of: Cheap hotels in Spain

All hotels included have been visited by ourselves, friends of Euroresidentes or family. We don't include reviews sent by Spanish hotels we haven't visited. And when we do go, we never tell hotel staff we intend to review the hotel, so that we can write honest reviews and descriptions having received unbiased service.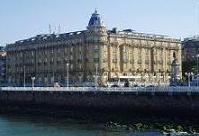 See also our independent guide to restaurants in Spain and paradors hotels in Spain. And our new Guides to Spain, with historical, cultural and practical information and advice about different destinations in Spain, province by province.
And Holiday in Spain provides helpful advice and resources for people planning a break here.

If you want to suggest a hotel not included here, or add a comment to one that is, then please write to us.