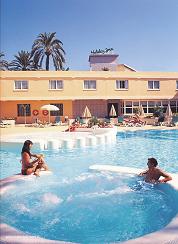 Our favourite, the Hotel Holiday Inn in Alicante just a few minutes walk from San Juan Beach offers excellent value for money. The hotel was rennovated recently and service is both professional and warm. Internet-friendly, guests have access to free wireless Internet (something which believe it or not is still quite rare in many 4 and 5 star hotels in Spain) all over the hotel and there is also a small business corner with computer and several meeting rooms, making it an ideal choice for a business trip.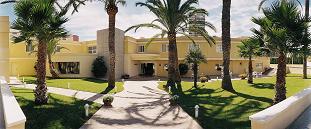 The hotel is also family-friendly and offers family rooms for up to 2 adults and 2 children (1 child under twelve stays free), a lovely play area, swimming pool and restaurant with children's menu. Other facilities include padel tennis courts, gym and sauna.
For more details and special offers visit the Hotel Holiday Inn Alicante website. (The same family own the Holiday Inn Hotel in Elche, an ultra-modern, domotic hotel, ideal for short breaks, business or pleasure).

Hotel Sidi San Juan (*****)
Playa de San Juan, 03540 Alicante
Tel. +34 965 161 300, Fax +34 965 163 346.
El Sidi San Juan is a typical sun-sea-sand five-star hotel. Its biggest asset is its location, overlooking the famous 7 km-long San Juan beach and just a 10-minute walk to Cabo de las Huertas, the rocky (nudist) beaches. Hotel Sidi San Juan, offers good sized rooms with balconies overlooking the sea, green gardens, spa facilities, conference rooms, an excellent buffet restaurant for Summer lunches, swimming pool and, for those who want to spend a few hours on the beach, sunbeds, towels etc. There is also a tennis club just next door with plenty of courts and tennis instructors.
-This hotel is currently closed.
Hotel Hesperia Alicante Golf Spa (*****)
Avda. de las Naciones s/n, 03540 Playa de San Juan - Alicante (Spain)
Tel: (+34) 965 235 000, Fax: (+34) 965 268 242
Set in the new "golf" district of San Juan, Alicante, if you enjoy playing golf or you are on a business trip and have no time to enjoy Alicante's beaches, then the Hotel Hesperia is probably your best bet. Located in one of San Juan's newest areas (which means you may be surprised at the amount of building sites in the surroundings) the Hotel Hesperia offers five star service, spacious gardens, golf, spa and swimming pool. It is a good 20 minutes walk from the beach though.

Book a room here now

Pueblo Acantilado (****)
Cala D´Or, El Campello Tel. (+34) 965 638 146
12 km from Alicante, This interesting hotel has modern facilities and is built to imitate a typical Mediterranean fishing village next to the sea. Wonderful sea views. Conference centre.

Hotel Huerto del Cura (****)
Porta de la Morera, 14, Elche. Tel. 966 610 011.
Near one of the most beautiful gardens in the Mediterranean of the same name which is owned by the Orts family who also own the hotel. The rooms consist of small exceptionally pleasant bungalows set within a pretty garden. Its restaurant Restaurante Els Capellans is very good.

Book a room here now
Hotel el Montíboli (*****)
Partida del Montíboli, La Vila Villajoyosa. Tel. 965 890 250
One of the classic hotels on one of the most beautiful parts of the Alicante coast. Set on the cliffs overlooking its own little beach. It has one of the best restaurants in the coastal area called The Emperador. See photos Villajoyosa - Benidorm.

Book a room here now
Hotel Meliá Hill Resort (*****)
Suecia s/n urb. Altea Hills Km. 163.5
On the road N-332 3 km from Altea. Golf and beautiful sea views. See photos of Altea and photos of Altea's coast and beaches.

Hotel Porto Calpe (**)
Avd. del Puerto s/n, Calpe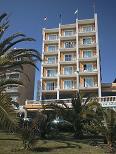 A lovely hotel, set at the foot of the famous Peñon de Ifach in Calpe, a natural reserve with unique fauna and flora. Calpe is 60 km. up the coast from Alicante. Hotel Porto Calpe figures as a 2-star hotel, but it is actually much more comfortable and carefully looked-after than many 3 (and 4) star hotels in the area. 66 en-suite rooms, spacious, light and clean, some with balconies overlooking Calpe's busy fishing harbour. 6 superior rooms and one suite (called the Belen-suite) with ensuite jacuzzi. The hotel restaurant serves functional meals, but there are many very well-known restaurants in the area. See restaurants in Alicante and restaurants in the Costa Blanca.
A modern parador in a lovely spot, overlooking Javea's beach and the Mediterranean Sea. See Javea Parador for a full review of this parador hotel.
Other useful links
Travelling to Alicante? The following links may also be useful
Guides provinces bordering with Alicante and beautiful places in Spain nearby