Málaga is the second most important city in Andalucía. It has an active fishing port and is the capital of the 'Costa de Sol'. There are a lot of hotels and tourist facilities to support the number of visitors the surrounding villages and beaches attract each year. Malagueños, the people from Málaga, are open and friendly. Located between the mountains and the sea and between 2 river valleys Guadalhorce and Guadalmedina, Málaga has almost 300 days of sun a year.

The city was founded by the Phoenicians, although there are some prehistoric remains such as painted caves and standing stones.


Málaga was ruled by a number of different cultures such as the Romans, Vicegothics and the Moors, something which is reflected in its monuments and historical legacy. Perhaps the most important influence were the Moors which is clearly seen in parts of the city such as the historic quarter.

Nowadays the greatest influence is tourism, something which makes it one of the most important provinces in Spain.

Things to do and see in Málaga
Walks:
The historic quarter: taking a stroll through this area is very pleasant and you'll get to see the most important historic buildings in the city if you visit the following streets and squares - calle Larios, plaza de la Constitución, Pasaje Chinitas, calle Fresca, Plaza del Obispo, calle Molina Lario, calle Cister, calle Alcantarilla, plaza de la Merced, calle Granada and calle San Agustín. 

The Marina Plaza is located in the modern part of the city. The surrounding streets were designed and built when the old city wall was demolished opening up the city to the sea.
Remains of Málaga's Roman Theatre : Located at the foot of the Alcazaba. The remians date back to the Augusto period - it was used until the 3rd century. Later on, the Moors used it to build the Alcazaba fortress.



Palaces and Castles in Málaga
La Alcazaba (fortress): This was a palace for the Nazarite kings. Construction started in the 8th century and finished in the 11th century. You can see the remains of what was once a Roman theatre at its entrance. There is a lift which takes you up to the top of the fortress which goes from calle Guillén Sotelo behind the townhall.

Gibralfaro Castle: King Yusuf I built this castle in the 14th century to defend the Alcazaba. You get spectacular views of the city and sea from this location.
Buenavista Palace. Picasso Museum. 14th century - renassaince style.
Miramar Palace

Marqués de Valdeflores Palace

Villalcázar Palace: 18th century - headquarters for the Chamber of Commerce.

Zea-Salvatierra Palace: 17th century
Marqués de Sonora Palace: 1789

La Aduana Palace: 19th century - currently being renovated to house the Bellas Artes Museum.

Episcopal Palace. Used as an exhibition centre.


Cathedrals and Churches in Málaga
In 1489 the city was taken over by Christians, following this many religious buildings were constructed. The 'Reyes Católicos' tried to rid the city of its Moorish history with great zeal.
Encarnación Cathedral: Built between the 16th, 17th and 18th centuries. Located in calle Molina Larios.

Nuestra Señora de la Victoria Sanctuary: A centre dedicated to the Virgen de la Victoria

Santos Mártires Church (martyrs): Mártires (martyrs) square. Built under the order of the Reyes Católicos and opened in 1491.

San Lázaro Chapel: 15th century -founded by the Reyes Católicos.

San Juan Bautista Church: calle San Juan no.3 - founded by the Reyes Católicos in 1587. Gothic and Mudejar style.

San Felipe Neri church: 18th century

Santo Cristo de la Salud church:16th century.

Convent de San Agustín Convent : 16th century and reformed in the 18th century.

Santa Ana Abbey:. 16th century.

Agua Chapel: Opened in 1800. Baroque style

San Julián Church: A church hospital paid for by the Reyes Católicos, to look after the poor.

Santiago Church: Built on a mosque - founded in 1490, the facade and tower are Mudejar style and inside is gothic mudejar style. Picasso was baptised here in 1881.


Museums (there are 19 museums in Málaga, 15 of which are in the historic quarter).

Pablo Picasso Museum: Located in the Buenavista 16th century Palace - you can see 155 works by Pablo Picasso.

"La Malagueta" Bullfighting Museum: Located in the 'Plaza de Toros' this museum is dedicated to the world of bullfighting.

Contemporary Art Centre : Calle Alemania.

MIMMA. The Interactive Music Museum of Málaga

The Interactive Science and Technology Museum of Málaga

Picasso's Birthplace - Picasso Foundation: Plaza de la Merced 15. Bought by the townhall in 1988, it houses important documents and bibliography.

Casa de Muñecas Museum: Calle Alamos 32 - a Baroque 18th century palace.

La Alcazaba Archeological Museum: Calle Alcazabilla - it holds ceramics from the Moorish period.

Arts and Popular Traditions Museum

Ecological museum Lagar de Torrijos
Loringiano Museum

Museum-Aquarium Aula del Mar

Cister Museum.


Plaza de la Constitución (Constitution Square): Located in the heart of the historic quarter. Renaissance 16th century style.

Plaza de la Marina (Marina Square): Surrounded by palm trees and modern buildings, you can reach the seafront from here.
Hotels and accommodation in Málaga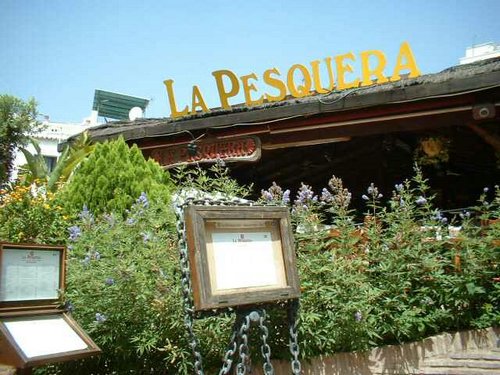 - click on any of the following for reviews

The province
Malaga is a province located between the mediterranean and the mountains. The coast the 'Costa del Sol' is outstanding. The province's hotels, restaurants and other tourist facilities are all first class. The airport is well connected. The surrounding provinces are also very beautiful - Cádiz, Granada, Córdoba, Sevilla, Almería…and you can easily go on a day trip to one of these places. The mountains surrounding Málaga are dotted with small white villages - "
Los Pueblos blancos
" with Moorish origins and sometimes Moorish remains.
What to buy in Málaga
You can get ceramics, wines and liquers in Ojén; wood and jewellery in Marbella; Fuengirola has a tradition for craftsmanship and you can get all sorts of hand-made products. Ronda is good for antiques.

Towns in Málaga province

Antequera

Torremolinos

Marbella

Fuengirola

Alhaurín de la Torre

Alhaurin el Grande

Estepona


Villages and surrounding areas in Málaga Province
Antequera: Interior

Antequera: Historic - it had strategic importance during the Roman and Moorish periods. Worth a visit.
Fuente de Piedra: Located to the north of Antequera, it has a natural park with a large number of wild birds.

Torcal Natural Park: Located on the outskirts of Antequera. Interesting rock formations, there are foxes, eagles, vultures and a wide range of wild flowers especially wild orchids.

Archidona

Campillos

Cuevas de San Marcos



The Coast: Costa del Sol.

Torremolinos: Crowded tourist resort, good hotels, sports and other facilities.
Casares

Benalmádena

Fuengirola: Fishing village surrounded by mountains - lots of tourists.

Mijas Pueblo: A typical, picturesque white mountain village 8km from Marbella.

Ojén: A white mountain village 10 mins from Marbella.

Istán: A white village located in the mountains above Marbella - founded in the 9th century by the Moors.

Cabo Pino: A small, new village built around the marina.

Marbella: Holiday retreat for the European jet set.

Puerto Banús: One of the most exclusive marinas in Spain.

San Pedro de Alcántara:

Estepona: Touristic



La Axarquía: Costa del Sol. Valley where lemons, oranges, vegetables and fruit are grown. Located between the mountains, Velez river and the sea. The coast is characterized by steep cliffs, small coves, beaches and mujedar villages. Touristic.

Nerja: Coastal villages with beaches - good atmosphere. Cave paintings.

Rincón de la Victoria: Family atmosphere - clean beaches.

Vélez Málaga: A typical white village next to the Velez river.

Torrox: Roman and Moorish remains.



Málaga: Costa del Sol

Málaga: Capital of the province.

Alhaurin de la Torre: San Sebastián church 16th century. Alamillo hermitage 19th century. Santo Cristo hermitage 15th century.



Ronda: Interior. Ronda Mountain range.


Ronda: Located on top of a mountain with beautiful views from Alameda del Tajo Mirador (viewing point). You can see remains of the wall, arabic baths and doors. It's an enchanting city with lots of history.

Faraján
Cortes de la Frontera

Arriate



Guadalhorce Valley: Interior. Guadalhorce valley, fertile market garden area, historic (evidence of prehistoric activity).

Alhaurín el Grande: Important prehistoric remains

Alora:

Cártama

El Chorro: Village located in a valley.

Coín: A typical white village.
Travelling to Málaga? The following links may also be useful
Guides provinces bordering with Málaga and beautiful places in Spain nearby