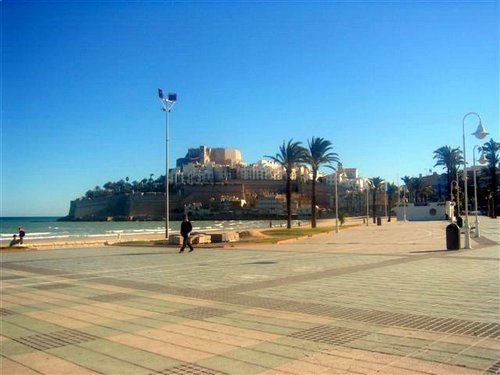 The province of Castellón stretches 112 km along the Mediterranean coast of Spain forming the so-called Costa Azahar. Castellon is one of the most mountainous provinces in the whole of Spain and offers countless opportunities for travellers who enjoy rural tourism, mountain walks, sleepy villages.

On the coast, the beautiful, well maintained beaches along the 'Costa Azahar' receive thousands of visitors every year. In addition to tourism, ceramics and agriculture are other important industries in the province.

Castellón de la Plana is a historical city dating back to medieval times (13th century). It is situated between the sea and the 'Desert de les Palmas' mountain range and has a population of 140,000. Nowadays, the city is both modern and historical. The old quarter around the Plaza Mayor, the Plaza de Santa Clara and the Plaza de la Pescadería has many ancient buildings.
Things to do and see in Castellón
Walks: The city isn´t very big and it is very pleasant to walk around its orange-tree lined streets. A stroll around the old quarter (the Plaza de Santa Clara the Plaza Mayor and the Plaza de la Pescadería and adjacent streets) where you can see Gothic and renaissance buildings is a must. Also a walk along the 'Avenida Rey Don Jaime' gives you another perspective of the city - its full of modern buildings and shops. In the Ribalta park, you can see the people of Castellon taking their daily walk or just passing the time of day. Another meeting point is the 'Plaza de la Paz', next to the 'Teatro Principal'. A visit to the 'Fadri' shouldn´t be missed.
El Fadri: This is a 16th century, 58 metre high octagonal bell tower. It is the symbol of the city and is located between the Cathedral and the Abbey. The bell tower not only rings on the hour but it is also used to announce important city events.


Plaza de Santa Clara: an open square which also serves as the market place. It has a system of modern archways which go all around the square. You can also see a modern sculpture by Llorenç Poy.
Palaces, Cathedrals and Churches in Castellón
Saint Miquel Palace: 15th century - located between 'la Lonja' and the 'Plaza Mayor'. The main door has interesting, ornate carvings.


The Town Hall: 18th century, Tuscan style - it has amazing arched windows. Inside you can find sculptures by Viciano and Benlliure and paintings by Oliet, Foz, Puig Roda, Pocar and Doménechs.
The Santa María de la Asunción Cathedral: 13th century, rebuilt in a Gothic style in the 14th century. Demolished during the civil war it was rebuilt again in 1940 (remaining to this day unfinished). Some original artifacts remain such as carvings dating back to the 17th century, crosses used in processions and tapestries by Oliet and Ribalta.
The Santa María de Lladó Basilica: originally built above an ancient chapel, a statue of the Virgin Mary was discovered in the 14th century. It was renovated in the 16th and 18th centuries. Apart from the statue of the virgin you can also see ancient canvas paintings and ornate silver and gold objects.
San Miguel church: 18th century - Barroque style interior, it is used for historical exhibitions.
Las Capuchinas Convent: 18th century, it has paintings by Zurbarán and scultpures from 17th - 18th centuries.
San Agustín church and Convent: Barroque facade. There are frescos on the dome and paintings by Oliet in the chapel.



Museums in Castellón
The Bellas Artes Museum: Located in an 18th century this museum was opened in 1980. It is divided into 4 sections: archeology - Paleolithic to the middle ages, ceramics - over 1000 pieces, paintings - Ribera, Romero de Torres, Rodrigo de Osona, Sorolla and sculptures - Adsuana, Viciano, Gandarias and Benllieure.
The Ethnological Museum: Opened in 1983, it contains old fashioned tools from various professiones such as: weaving, blacksmiths, shoe makers, fabric makers, tailors...
The Fadrell Municipal Ethnological Museum: located in a green area next to the 18th century Sant Jaume of Fadrell hermitage. Collection reflects rural and traditional customs of the province.
The Santa María de la Asunción Cathedral Mueum: Religious art from different periods. Works of art Joan de Reixach and Nicolau Falcó.
Lonja del Canamo: 17th century. It has 4 arches with Tuscan pillars.
The Casino: built in 1922 in a modernist style.
The 'TeatroPrincipal' (theatre): late 19th century, neoclassic. It has paintings by Pedro Ferrer and Francisco Perez Olmos. Located in the Plaza de la Paz.
The Orphanage - Casa dels Orfens : 19th century, founded by bishop José Climent.
The Ribalta Park: next to the station. popular with the people from Castellón for strolling around and relaxing. You can see many different types of vegetation there. During fiestas it has an arts and craft fair.
The Royo Gomez Geological Gardens
The Calduch Botanic Gardens


The Planetarium: The latest cultural addition to Castellón. It has a permanent exhibition and screenings.

Sports: Sailing, fishing, winsurfing, diving, hiking, horseriding and cycling are jsut some of the sports you can do in Castellon. There are 3 golf courses (2 in Castellón and 1 in Borriel). There is also an aerodrome (el aeródromo del Pinar) .
Hotels en Castellón: See our guide to the best hotels in Castellón and the Costa Azahar. See also Parador of Benicarlo.
Castellón Province
There is a marked difference between the coast and the interior of the province. Villages on the coast have excellent clean beaches with marinas and watersports facilities and with an average temperature of 17 degrees they are a good option for a relaxing holiday. The best known beaches are Benicassim, Peñíscola, Vinarós, Oropesa de Mar and Benicarló. The interior is quite different, the climate is cooler and there are only a few touristic areas (Morella, Segorbe, Benasal).
Villages in Castellón

Els Ports: Interior.

Forcall: Plaza Mayor 16th century, Asunción church 14th century, Escalotes Palace.
Morella: Walled medieval town. St. María la Mayor Basilican15th century. Good for rural tourism.
El Maestrazgo de San Mateo: Good for rural tourism.
La Plana Alta (Plana Alta): coast.

Benicassim: Beach town, good nightlife.
Oropesa de Mar: Beach town with a marina.
Vilafamés: Medieval town. Contemporary Art Museum.
Borriol: Remains of a Roman town plus prehistoric remains. good golf course
L'Alt Maestrat (Alto Maestrazgo): interior. Agricultural. Famous for its textile industry.


Ares del Maestre: Originally a walled Roman city, later it was taken over by the muslims. Prehistoric cave with wall paintings.
Villafranca del Cid: Important monumental heritage dating back to the 13th century. Remains of the 14th century city can still be seen.
Benassal: walled city, 14th century. Caves with wall paintings. World heritage site since 1998. Touristic.
La Plana Baixa (Plana Baja): Coast.

Burriana: The Orange Museum and El Salvador 13th century, Gothic church.
Vall d'Uixó: San José caves. Interesting old quarter, Arabic-Medieval.
Vila-Real: Famous for its ceramic tiles and agriculture.
Moncofar: Beach resort. L'Estanyol - natural reserve with great scenery.
Onda: Tile industry, remains of 13th century medieval city.
Ribesaltes: Tile industry, Arabic history..
El Baix Maestrat (Bajo Maestrazgo): Coast.

Alcossebre: Beach resort.
Benicarló: Fishing village.

Peñíscola: Papa Luna castle, 13th century. Busy beach resort. Walled medieval city.

Vinarós: Fishing village- good for prawns.
Alcalá de Xivert:
Alto Palencia: interior.

Segorbe:Famous for its fiestas with bulls. Given special touristic status in 1985.
Caudiel: Picturesque village. Iberian-Roam remains. It has a windmill.
L'Alcalaten: interior.
Alcora: Interesting historical remains. Ceramics
Lucena del Cid: Bronze age remains. Medieval castle.
L'Alt Millars (Alto Mijares): interior.

Fuente la Reina
Montanejos: Moorish village. Spa baths. Touristic.
Travelling to Lanzarote? The following links may also be useful
Guides provinces bordering with Castellón and beautiful places in Spain nearby