The Occidental Reconquista Hotel (*****)
Gil de Jaz 16 Oviedo Tel: 985 241 100
Set in a beautiful 18th century building in the centre of Oveido it has the reputation of being one of the best luxury hotels in the city. The building was originally an orphanage founded under King Fernando VI. The hotel is used annually for the The Prince of Asturias awards. The ancient cloister is one of the most attractive parts of the hotel.

Book a room here now

The AC Forum Hotel (*****)
Plaza de los Ferroviarios s/n Oviedo. Tel: 985 965 488

This is a modern, new hotel with good facilities and excellent service. 155 rooms. The hotel is in the heart of the commercial center of Oviedo just five minutes from the old quarter. Internet access, free mini-bar, turkish spa bath and a good restaurant serving traditional and modern cuisine.

Book a room here now
The Rey Alfonso II Hotel (****)
Ramiro I, 30. 33012 Oviedo Tel: 985 277 660.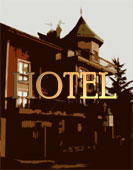 This hotel is set in a restored colonial mansion and offers a different experience to that of more traditional hotels. Comfortable rooms all tastefully decorated, in a quiet part of the city of Oviedo. Pleasant garden. Cafeteria serving breakfasts, drinks and light meals, but no restaurant.

Recommended hotels in Asturias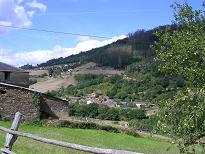 Asturias is ideal for rural tourism and has some beautiful places to visit. Small villages tucked away surrounded by stunning scenery. Aswell as some excellent hotels and paradors, Asturias also offers a wide choice of small hotels or houses to rent for visitors looking for a simpler and cheaper holiday. Asturias has been quick to respond to the increasing demand for rural tourism, and the wide variety of accommodation on offer reflects this fact.

Cangas de Onis Parador****
in Villanueva 2 kms from Cangas Tel: 985 849 402
Set in the 12th century Monastery of San Pedro de Villanueva, declared a National Monument in 1907. Beautifully restored and overlooking the banks of the River Sella and, in the distance, the spectacular mountain range, Picos de Europa.
La Rectoral Hotel (****)
Taramundi. Tel: 985 646 767
Set in a 17th century house in Taramundi, one of the most beautiful villages in Asturias. Excellent hotel, Rustic decor, comfortable and spacious rooms, great breakfasts, good restaurant, lovely views.
La Casona del Bosque de Pumares Hotel (**)
32 kms from Taramundi Tel: 985 621 297
A 17th century mansion which has been tasetfully converted into a hotel. Friendly service, antique furniture, clean and comfortable. Set in a beautiful valley.
Other useful links
Travelling to Asturias? The following links may also be useful
Guides provinces bordering with Asturias and beautiful places in Spain nearby