Hotel Alfonso XIII (*****)
c/San Fernando 2 C.P. 41001 Sevilla
Tel. 921 42 96 32 Fax: 921 41 32 55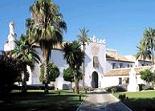 This hotel is situated between the historic tabacco factory - now the University - and the Baroque San Telmo Palace. It´s just a few metres from 'La Giralda del Alcázar', the Golden Tower and the Guadalquivir.

Built to be one of Europe´s most luxurious hotels when it was designed in 1928 for the Great Latin American Exhibition held in Sevilla in 1929, it has played host to Royal families, Heads of State amongst others.
Today it´s much more than a hotel with its fantastic colours and artistic details. Its rich interior decorations include marvellous chandeliers, marble floors and decorated tiling on the walls. The best feature of this hotel is its interior courtyard. Today the hotel offers modernity in splendid surroundings. One curious feature is the Japanese restaurant located within its garden. This historic treasure belongs to the Westin Hotel Chain - it has 128 rooms, 14 junior suites and 5 suites.

Book a room here now

Hacienda Benazuza elBulli Hotel (*****)
Virgen de las Nieves s/n; 41800 Sanlúcar la Mayor
Tel. 955 703 344 Fax: 955 703 410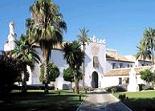 This hotel, once an old Arabic farm from the 10th century, offers history and delightful architecture together with excellent service and the gastronomy of Ferrán Adriá. All the rooms including the bedrooms are exquisite. They are decorated combining objects of art with valuable antiques.

The hotel has an outdoor swimming pool and Jacuzzi with sun loungers, tennis courts, an area for bowling. It has typical Arabic-Andalucian gardens with palm trees, orange trees, a herb garden and an orchard. Inside the hotel you can find a library, a billiards room and 5 conference and meeting rooms, all with up-to-date facilities. There is even a private heliport. There are several restaurants offering different types of gastronomy: ´The Alqueria' (1 Michelin star) offers Mediterranean cuisine, "The Bull'" offers different original dishes everyday, "The Alberca" offers hotel guests the opportunity to eat snacks and tapas al fresco next to the pool and the Sevillian style "Abaceria" restaurant. The Hotel has 3 double suites, 5 Master Suites, 10 Junior Suites, 9 superior double rooms and 17 standard double rooms.
Hotel Hacienda La Boticaria (*****)
Carretera de Alcalá Utrera Km.2; 41500 Alcalá de Guadaira, Sevilla
Teléfono: 95 569 8820; Fax: 95 569 8755

This hotel is situated within the countryside of Alcalá de Guadaira about 15 kilometres from Sevilla. It is a fine example of a modern country estate. It has excellent, spacious rooms. The gardens surrounding the hotel are particularly beautiful. It also has stables within the estate offering horse and carriage rides in the country. The hotel has: 100 rooms including 5 Junior suites and 16 suites.
Hotel Barceló Renacimiento (*****)
Isla de la Cartuja, 41092 (Sevilla) Tel: 921 461 300 Fax: 921 462 217
This hotel consists of 3 circular buildings surrounded by gardens with views of the Guadalquivir river in the middle of the Isla de la Cartuja. Next to the Hotel for the Magic Island theme park, and also the Alamillo Park and Olympic stadium. It has an outdoor pool surrounded by gardens, a sauna, a Jacuzzi…
The hotel has 295 rooms including 12 Superior and 7 suites. It is also equipped with WiFi facilities which makes it a good choice for business trips.

Hotel Cortijo Soto Real (*****)
Ctra. Las Cabezas-Villamartín Km 13 Aptdo 68; 41730 Las Cabezas (Sevilla) 955 869 200
This hotel is located between Sevilla and Cádiz, just 33 km from Seville. In a country setting of mountains and valleys its privileged location makes it an ideal location for open-air activities such as hunting and horse riding. An excellent example of a country estate hotel, it has 24 spacious rooms or suites.
Hacienda La Indiana
Ctra. Don Rogrigo km. 4,4 Utrera Sevilla; Tel.670 380 280 Fax 955 181 012
This country estate, over a century old, is located in 25 hectors of dry Sevillian countryside just 30 km from Seville. The garden surrounded by 8 palm trees and an outdoor swimming pool give some respite to the dry southern landscape. The hotel which was completely renovated in 1998 has managed to keep its traditional Sevillian country-house style. There are stables within the estate where even if you´re a beginner you can hire a horse for a ride into the surrounding countryside.
Travelling to Seville? The following links may also be useful
Guides provinces bordering with Seville and beautiful places in Spain nearby