Cádiz has some of Spain's most unspoilt coastline, including the impressive Playa de Barrosa (see photos of Playa Barrosa) - an 8-kilometre beach relatively few tourist development, which is quite rare in most Spanish coastal regions these days (although, we fear, its wild, unspoilt days are probably numbered).
Zahara de los Atunes, situated next to beautiful mountains and countryside, is one of the most attractive villages in the Cádiz region with white sandy beaches and crystal clear water.
Cádiz is also one of Spain's windiest regions, and Tarifa which boasts some more beautiful beaches is a popular destination for surfers. There are some beautiful villages hidden in the mountains just a half-hour drive inland with white houses contrasting with the green hills. Cádiz is the new "in" tourist destination for many Spaniards who live in Madrid and more and more
hotels in Cádiz
offer four and five star services for tourists prepared (and able) to pay for higher class hotel accommodation.
Hotel Sancti Petri (*****)
Urb. Novo Sancti Petri, s/n 11139 Chiclana de la Frontera, Cádiz
Tf. +34 956 491200; Fax +34 956 497053.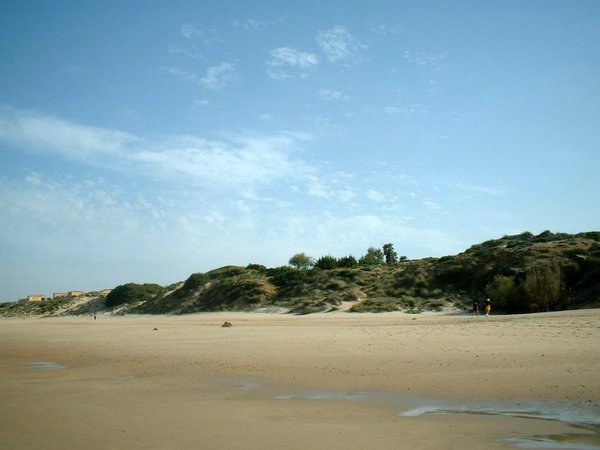 The Sancti Petri Meliá hotel, just a ten-minute drive from the city of Cádiz, has modern, beautiful architecture with bright colours that imitate an authentic Andalusian palace. It also has attractive gardens. This is a luxury hotel on the Atlantic coast, located in a very peaceful area known as Novo Sancti Petri. Watch the wonderful sunsets over the beautiful Playa de Barrosa.


The king of Spain opened this hotel which will hopefully set the standard for the new Spanish hotel industry. It has excellent restaurants although its breakfasts should be improved (like many of the the hotels belonging to the Meliá group which seems to be falling behind other hotel groups such as Hesperia…etc).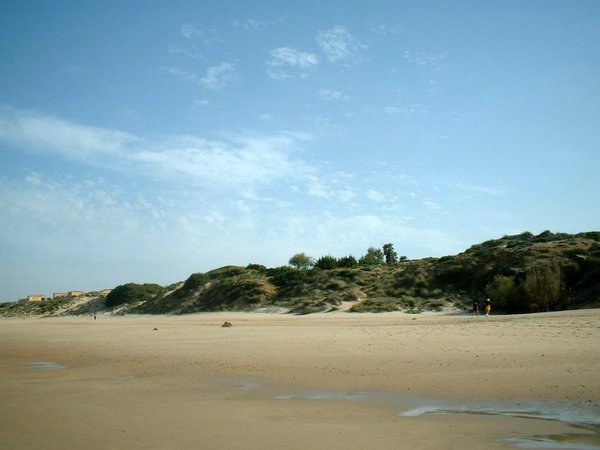 One of the best things about this hotel is the wonderful swimming pool (see top photo) overlooking the beach (bottom photo). The hotel offers spa treatments. The rooms are very comfortable. Don't forget to take a mosquito machine with you - they are not provided by the hotel.

Hotel Sindhura
Patría S/N - La Muela, Vejer de la Frontera, 11150 Cádiz
TFN 956448568 FAX 956448550
Hotel Sindhura is right at the heart of a wide open, undulating hillside space with lovely views for guests wanting to relax in the Cádiz countryside very near some of Spain's most unspoilt beaches. Twelve spacious ensuite double rooms and one full suite - all fully equipped with air conditioning, bath, satellite television, telephone and a laundry service. Nine of the rooms have their own ternace. Outdoor swimming pool, restaurant.
Hotel Atlantico (Parador de Turismo
Avda. Duque de Nájera 9, Cádiz.
Tel: +34 956 226 905, Fax + 34 956 214 582.

Hotel Atlántico (Parador of Cádiz). This hotel has great sea views and is ideal for visiting Cádiz´s historic quarter. Within walking distance of all the main sights in Cádiz and very popular with visitors so people wanting to stay here in high season are advised to book in advance.
Find information on other nearby parador hotels in our guide to paradors in Spain.
Other useful links
Travelling to Cádiz? The following links may also be useful
Guides provinces bordering with Cádiz and beautiful places in Spain nearby