Badajoz

Badajoz is the largest province in Spain (21,600 sq. km.) and one of the least densly populated.

Aswell as bordering with Portugal in the West, Badajoz borders with Cáceres in the North, Huelva, Sevilla and Cordoba in the South, and Ciudad Real and Toledo in the East. Today Badajoz's economy is based on farming and, increasingly, tourism.
Because of its location, all the different cultures throughout Spanish history passed through Badajoz, but the province's enjoyed its peak of influence and power during the Roman Empire, when the Romans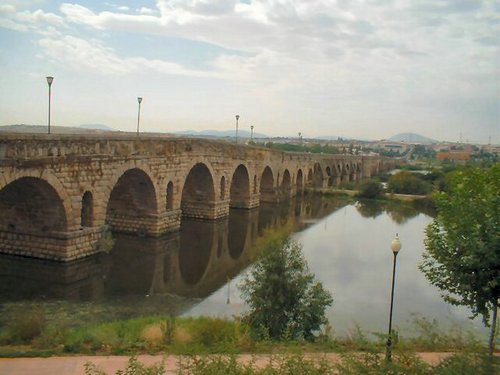 converted Merida into one of the Empire's most important capital cities. After the Visigod period, the Moors invaded Spain and the Ibn-al-Aftas dynasty established a great cultural and scientific centre. When the Christians regained control under Alfonso IX, many of the explorers who set out to conquer the New World were from Badajoz (Hernan Cortes, Vasco Nuñez de Balboa, Hernando de Soto, Valdivia, Alvarado....).
Badajoz capital city
Badajoz with a population of 140,000 is the province's financial and commercial center, but not its most beautiful as far as monuments are concerned, although the wall surrounding the old city illustrates the fortress it was for many years throughout Spanish history. One big attraction of Badajoz is the friendliness of the people who live there, always ready to help a lost tourist in need! If you do pass through Badajoz on the way to one of the province's more monumental towns, it is worth stopping for lunch because the city has a couple of excellent restaurants and also a selection of bars offering very good tapas.
What to see in Badajoz
Alcazaba - one of the best conserved walled Arab castles in the whole of Spain with various towers still intact.
Historical quarter - stroll around the old part of the town to admire the old plazas (especially Plaza de San José, Plaza de España and La Plaza Alta) and churches. Look for the two towers flanking the old entrance to the city dating from the 16th century, Puerta de Palmas.
Churches: Iglesia de Santa Domingo, Iglesia San Andrés, Iglesia San Agustín de la Concepción
Cathedral: Catedral de San Juan - a very impressive building built between the 13th and 16th centuries. Predominantly gothic and romanic, with three aisles and twelve inner chapels.
Puente de las Palmas: A bridge built in the 16th century and crossing the Guadiana river with 32 arches, 582m in length and 13m in height.
Museums in Badajoz: MEIZC, Extremadura's Iberoamerican Museum of Contemporary Art, Virgen de Guadalupe, 7. Impressive red brick building; Museo Arqueológico, Palacio de los Duques de la Roca, in the interior of the Alcazaba on the site of the old Mosque with many exhibits of prehistoric, Roman, Visigo and Arab objects; Museo Provincial de Bellas Artes, San German, 1, Art gallery.
Where to stay in Badajoz
Hotels in Badajoz: Hotel Monasterio de Rocamador**** in Almendral. Luxury hotel set in a medieval monastery; Barceló Zurbarán **** in the center of Badajoz, walking-distance from shops and parks; Confortel Badajoz**** on the outskirts next to a golf course.

Hotels in the Province of Badajoz: Zafra Parador**** - outstanding parador, click for full review and photos; Mérida Parador**** in the monumental center of Mérida; Melia Merida Boutique*****, luxury hotel in the center of Merida;
Shopping in Badajoz
Visitors are advised to take advantage of a visit to Badajoz to buy local wines -D.O. Ribera del Guadiana-; La Serena cheese; serrano ham; Dehesa de Extremadura serrano ham; Monterrubio olive oil and local pastries and sweets. If you visit one of the convents in the city or province, check to see if the nuns sell home-made biscuits and sweets.
Places of interest in the Province of Badajoz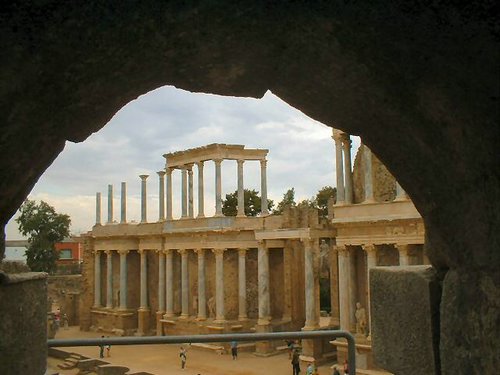 Mérida - Capital of the Region of Extremadura
Merida is the only city in Spain which is capital of its Autonomous Region without being the capital city of its own Province. It is a jewel of a city for anyone interested in Roman history and culture, although one can't help wishing that the wealth of monuments were better cared-for. The town has a sense of decay, abandon and potential excessive real estate speculation which needs to be addressed by the local and regional authorities as soon as possible.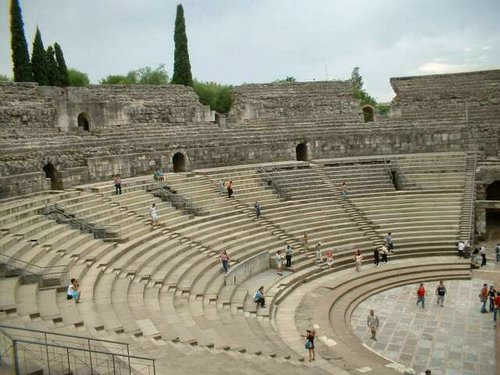 In its heyday Merida was one of the most famous Roman capital cities in the Iberian Peninsula, and although like most of Extremadura, Romans, Visigods, Moors and Christians all made their mark on this town, Merida's real attraction lies today in the sheer extent of what are some of the best preserved Roman ruins in Europe, many of them accompanied by remains of Arab art and culture. Merida also has the outstanding National Museum of Roman Art.

When you arrive, our advice is to park your car, get out and walk. You can get a plan in the Tourist Information office (Av. José Alvarez Saez de Buruaga) with a route which indicates the best way to get around all the monuments and places of interest on foot. You really need a couple of days to do justice to this town. See this list of monuments and places of interest in Mérida.
Zafra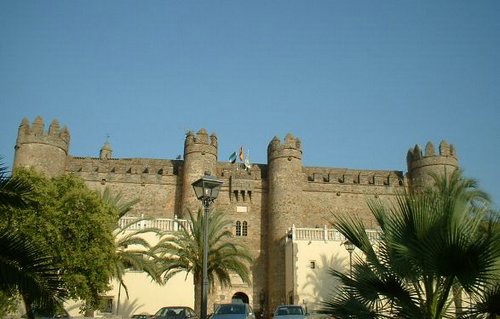 Zafra is a small, sleepy town - 15,000 inhabitants - set in the midst of typical Extremadurian countryside.
It has a beautiful old quarter full of colonial-style buildings, small palaces, several convents, attractive plazas and the impressive 15th-century Palace of the Duques de Feria, today converted into Zafra Parador Hotel (see photo on the right), arguably one of the best hotels of all parador hotels in Spain.
Travelling to Lanzarote? The following links may also be useful
Guides provinces bordering with Badajoz and beautiful places in Spain nearby