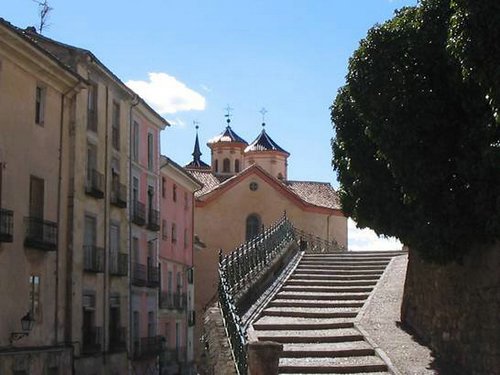 Rivers, beautiful scenery where it´s possible to see wild bears, charming cities, houses overhanging a canyon... Cuenca is a surprising city and province and has a very special attraction for those who know it.
Places to visit in the city of Cuenca, Spain
Walking in Cuenca: The Huécar Canyon - 5 km of precipitous countryside, The suspension bridge and The Júcar Canyon with overhanging houses. The Plaza Mayor and the Cathedral are also worth visiting.
Las Casas Colgadas (Overhanging houses): (14th century) as their name suggests part of their structure overhangs the Huécar canyon creating an impressive, eyecatching effect.
Cuenca's cathedral: This wonderful cathedral is Gothic Anglo-Norman, the only one of its kind in Spain.
Churches: Virgen de las Angustias chapel
Museums in Cuenca
The Antonio Pérez Foundation (Contemporary Art); The Cathedral Museum, The Overhanging Houses Museum (Spanish abstract art); The Museum of Cuenca (archaelogical); The Castilla-La Mancha Science Museum; The Diocesan Museum of Sacred Art (modern art, religious art, El Greco and others)..
Shopping in Cuenca
The Alfarería; also the Santa Cruz Church Craftwork Centre. For typical foods and drinks werecommend resolí liquer (made from coffee, cinnamon, orange peel...) alajú (a special almond pastry with nuts, spices and honey), egg custards (Confitería Ruiz, El Convento and Marisol are the 3 most popular cake shops in Cuenca).
Accommodation in Cuenca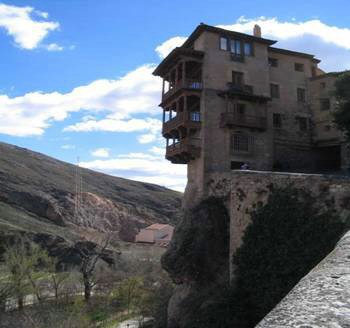 Our recommendation is the Cuenca Parador (****), a convent within the area of theHuécar canyon, with views of the casas colgadas. Also: Hotel AC Cuenca.
Cuenca Province
An interesting, extensive province with a very small population. There are 3 different areas: The Cuenca mountain range (an area of outstanding beauty), La Alcarria, popularized by Camilo José Cela and la Mancha converging with Albacete.
Villages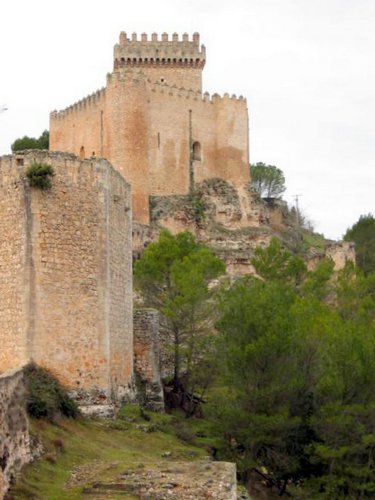 Belmonte: this town has an exceptional castle which is now recognised as a national monument. The urban area isespecially beautiful - it also has a rich heritage.
Beteta: small village with less than 500 inhabitants home to the famous Solan de Cabres spa.
Huete: Notable archaelogical remains from diverse cultures and civilizations.
Alarcón: (see Alarcón Parador and Photos of Alarcón) a small village with 200 inhabitants with a Parador, one of the most beautiful of the whole network of Spanish paradors, with very few rooms (see photo on the right).
The village, encircled by the Júcar, has a number of extraordinarily attractive monuments and is surrounded by the old wall.
Las Pedroñeras: some nice rennaisance buildings and home to Las Rejas restaurant is among one of the best restuarants in Spain.
Motilla del Palancar

Tarancón: Barrio del castillejo
Tragacete: a very pretty village in the Cuenca mountain range from which you can reach some interesting countryside, the source of the Júcar river and the source of the Cuervo river with waterfalls which freeze over in winter creating an impressive effect.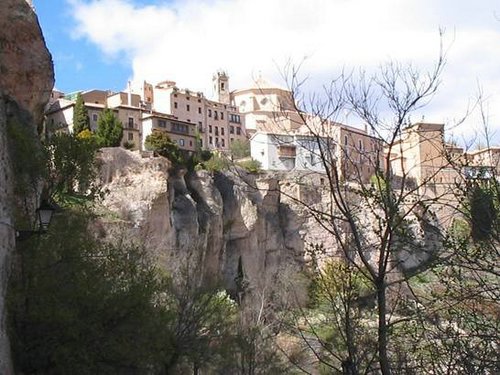 Other Places of interest
Ciudad encantada 35 km from Cuenca capital - very interesting rock formations, declared of national interest in 1929.
Travelling to Cuenca? The following links may also be useful
Guides provinces bordering with Cuenca and beautiful places in Spain nearby