Hotel Maria Cristina *****
Calle Oquendo 1, 20004 San Sebastián.
Tel:+34 943 437600; Fax: +34 943 437676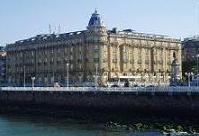 The Maria Cristina hotel, opened in 1912 by the Queen Maria Cristina, is one of San Sebastian´s grandest hotels, decorated in the style of Belle Epoque. It is located in the heart of the city, next to the Urumea River and within walking distance of the old historic quarter, the Concha and Zurriola beaches and the main shopping district.

It's also the place to be during the film festival when it plays host to national and international film stars, film directors and journalists.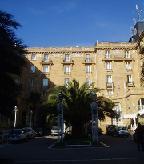 It has 108 rooms, 28 suites, and 5 meeting and banqueting rooms which can accommodate up to 700. The hotel also has a Wellness centre, opened in February 2005, with a pool with hydromassage area, sauna, steam room. It also offers a range of beauty treatments.

The Easo Restaurant and Gritti bar both offer traditional Basque cuisine aswell as The Café Saigon, a Vietnamese Restaurant, which offers guests the opportunity to try something a little more exotic.

Book a room here now

Hotel Londres ****
Zubieta 2, 20007 San Sebastián
Tel: +34 943 440770; Fax: +34 943 440491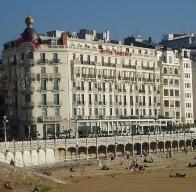 The Hotel Londres, built in the 19th century and recently renovated, is one of San Sebastian´s most prestigious hotels. It is situated facing the beautiful Concha Bay in the heart of the city. The room are decorated in a classical style, each with a marble bathroom. Not all rooms have a seaview so remember to ask when reserving.

There is a bar which has an outside terrace where you can enjoy watching the world go by, popular both with hotel guests and the people of San Sebastian. There is also a restaurant 'Brasserie Mari Galent' which offers traditional Basque cuisine (not recommended for vegetarians).

It has 148 rooms and space to accommodate business meetings, family celebrations and parties.

Book a room here now
Hotel Galería, **
Calle Infanta Cristina,1-3
San Sebastián
Tel: (34) 943 317559; Fax: (34) 943 211298
The Hotel Galeria is situated in the exclusive district of Ondaretta just a minute´s stroll to Ondarreta beach. This small hotel is decorated in late 19th century French style. Each room is dedicated to a famous artist such as Picasso or Dali which is reflected in both the decor and the furniture. Although not centrally located it is only a 20 minute walk along the seafront to the city centre.

Facilities: Rooms - TV, mini bar, internet connection wi-fi, safe, telephone, air conditioning
Hotel - café, limited parking spaces, bicycles for hire and satellite dish
Hotel NH Aranzazu ****
Victoria-Gasteiz 1, 20018 San Sebastián
Tel: (34) 943 219077, Fax: (34) 943 219050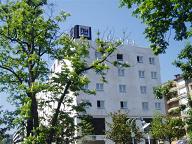 The Hotel Aranzazu is located in the tranquil Ondarreta neighbourhood just a short stroll from the beach. It is also one of San Sebastian's most modern hotels.

There are 180 rooms each with the most up-to-date facilites. The Hotel, member of the well-known NH chain, also has meeting rooms with a maximum capacity of up to 400 people. It has a cafe and the Kuluarri restaurant offering the latest in Basque cuisine and its own car park.

Book a room here now
Hotel Ezeiza, **
Avenida Satrustegui 13, Playa de Ondaretta, San Sebastián
Tel: (34) 943 214311; Fax: (34) 214768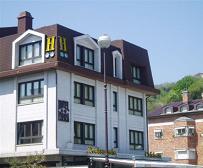 This hotel, opened in 1994, occupies a great location opposite Ondarreta beach in the exclusive Ondaretta neighbourhood. It´s just a 20 minute walk into the city centre along the Concha bay promenade.

The hotel has 30 rooms some with seaviews. There is also a cafe with a terrace facing the beach. The restaurant offers traditional Basque cuisine and offers a well priced lunchtime set menu popular with locals. There are also rooms available for business meetings and family celebrations. The hotel has its own closed car park.

Although the hotel only has 2 stars and is not as luxurious other hotels in San Sebastian its great location makes it a good choice for a short break in the city.
Travelling to San Sebastián? The following links may also be useful
Guides provinces bordering with Guipúzcoa and beautiful places in Spain nearby