Gran Meliá Salinas Hotel (*****)
GL. Avda. Islas Canarias, 35509 Lanzarote
Tf. (+34) 928 590040 Fax 928 590390

This is one of the best known luxury hotels on the island and definitely recommended. It has beautiful gardens, and a fantastic open air swimming pool aswell as paintings, murals and sculptures. Excellent service. It has 309 rooms all with a sea view. 25 junior suites and 2 master suites as well as 10 garden villas. Each villa has a bedroom with an en suite bathroom, private swimming pool and garden with a lake and small waterfall.

The Gran Meliá Volcán Hotel Lanzarote (*****)
GL. Urb. Castillo del Águila - Playa Blanca, 35570 Yaiza - Lanzarote
Tf. (+34) 928 519185 Fax 928 519132

This luxurious hotel is located on the sea front next to the Rubicón marina and just 1.5 kms from the fishing village 'Playa Blanca' on Lanzarote's southern coast. Las The Papagayo beaches are 5 kms away and the Timanfayade National Park 10 kms away. It has 255 rooms spread between some 20 typical houses with one or two floors and includes 12 junior suites and 14 suites. All rooms have great views over the neighbouring islands Fuerteventura and Lobos, the Papagayo beaches, Playa Blanca village or the hotel's open air swimming pool. The Playa Blanca restaurant offers an excellent selection of fresh fish and seafood.
Caserío de Mozaga Hotel
Mozaga 8, 35562 San Bartolomé, Lanzarote
Tel:0034-928-520060, Fax:0034-928-522029.
Set in 18th century buildings in a natural area. Modern, restaurant offering original, creative cuisine. 8 double rooms, 2 of which have a private living room all decorated with antiques. An interesting garden with sand, volcanic rock and plants from the island.
Very good restaurant in the stables of this old farmhouse
Traditional and also modern cuisine.
La Finca de las Salinas
c/ La Cuesta, 17 35570 - Yaiza (Lanzarote)
Tel. +34 928 83 03 25. Fax. +34 928 83 03 29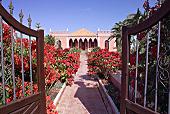 An old mansion dating back to the 18th century. Set within 'Las Salinas' a natural area where salt is still collected. The rooms, which were once stables, have been carefully renovated. Beautiful volcanic gardens with own swimming pool.
Travelling to Lanzarote? The following links may also be useful
Guides provinces bordering with Canary Islands and beautiful places in Spain nearby