Pasajes San Juan, know as Donibane in Basque, is a small traditional Basque village located in the bay of Pasajes in a natural port 10 kilometres from San Sebastián in the Province of Guipúzcoa.

You can get to this pretty Basque village by car, via Rentería, or by boat via San Pedro.
San Juan is rich in fishing history and many famous adventurers are said to have set sail from here on their travels.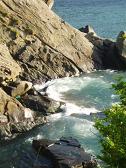 Where to go: Pasajes San Juan consists of one narrow street which winds its way through the village and ends in a beautiful cliff walk. The street is lined with lots of historical buildings, including the house where the well-known writer Victor Hugo lived.

The village is famous for its architecture with many of the older buildings directly overlooking the sea. The best way to see San Juan is on foot. Visit the small Plaza de Piedad and the larger Plaza Santiago with its characteristic fishermen houses.

Where to stay in Pasajes San Juan: There are no hotels in this beautiful Basque village, so visitors will need to find a hotel in nearby San Sebastian. See our guide to hotels in San Sebastián
See Photos of Pasajes San Juan.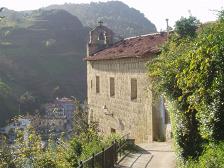 Anyone visiting Pasajes San Juan should also go to nearby Fuenterrabia, another pretty Basque fishing village.
See also our Guide to Guipúzcoa, and Restaurants in San Sebastián