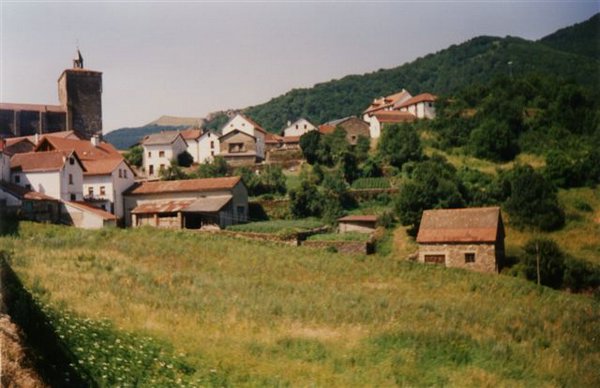 Navarra is located in the north of Spain. It has borders with the Eastern Pyrenees which form the border with France (high mountains, skiing, adventure sports...) and the Atlantic Pyrenees to the Northeast (milder climate, beautiful villages...). Pamplona (see Guide to Pamplona) is the capital of Navarra, near the Pyrenees. The Sierra de Aralar and Urbai national parks are also within Navarra; Tierra Estella is located in the southwest where the Camino de Santiago with its monasteries, chapels and art can be found; La Ribera is located in the south where there are prehistoric, Roman, Moorish and medieval remains; Mid-Navarra is well known for its historic monuments, valleys, fields and olive groves.

Navarra has a beautiful impressive landscape perfect for rural tourism and sports such as horse riding, fishing, skiiing and golf. There are also some hunting reserves.

The province has a rich heritage. There are many different historical sites to visit. The most famous and perhaps the most interesting sites are along the Camino de Santiago.

Tudela
Tudela is located in a rich, fertile area known as La Ribera in the Ebro Valley. It is the second most important city in Navarra. Tudela is famous for the excellent vegetables and fruit grown here, especially small lettuces (cogollos de Tudela) and big asparragos.

Things to see in Tudela: the Mudejar and Jewish neighbourhood; the 13th century bridge; la Plaza de los Fueros is the most important square in the old part noted for its medieval windows and paintings of bullfights on the walls (in the past it was used as a bullring); the Cathedral, built following the city's recapture in 1194, Gothic with a Roman cloister, in the same place you can see the ruins of a 9th century mosque and a Mudejar chapel.

Surrounding area: a 12th century monastery - Monasterio de Santa María - which has been converted into a spa called the Balneario de Fitero; the Bardenas Reales - a desert area with very interesting tall rock formations.


Olite
Originally Roman and once home to the kings of Navarra, this city has a rich heritage.

Things to see: The Roman walls which surround the old part of the city where you can find the 13th century Monasterios de las Clarisas; the Castle of Olite (see photo) with its fairy tale turrets is open to the public, the Royal chapel, the 13th century Santa María la Real chapel is very pretty especially its Gothic entrance and 16th century altar, the Palacio Real de Olite, built by Carlos III in 1406, this is a fortified palace, richly decorated inside and surrounded by vineyards and orange trees. Part of it had to be rebuilt following damage during the Carlist war. Nowadays part of the palace houses the town's parador hotel. Olite also has various mansions and palaces dating back to the 16th and 18th centuries in calle Mayor (Main street).

Puente la Reina
This is one of the villages on the Camino de Santiago. Its name comes from the arched bridge built by the king in the 11th century so that pilgrims could cross the Arga river and continue on their way towards Santiago de Compostela.
Things to see
:
Iglesia de Santiago
in calle Mayor, there is a picture of the apostle on its eastern door; 12th century
la Iglesia del Crucifijo
, dedicated to pilgrms. Inside the church there is a curious crucifix with arms forming a V, it is thought to be German dating back to the 16th century.
Surrounding area
:
Iglesia de Santa María de Eunate
, 5kms from Puente la Reina, this was a pilgrims cementry;
Zirauqui
, this is a charming village with a pretty 13th century Norman church called Iglesia de San Román.
Estella
This is one of the villages on the Camino de Santiago. In the middle ages it was the location for the Navarran Royal Court. Well preserved buildings and very picturesque not to be missed.

Things to see: 12th century Iglesia de San Martín de la Rúa, a Norman church built on the side of a cliff, it was partly destroyed in 1592 when only the upper parts of its columns survived. It has an interesting Mudejar entrance; Palacio de los Reyes de Navarra (the Navarran kings' palace), a Norman building which is now used as a museum:museo de arte navarro; Iglesia de San Juan Bautista, Iglesia de San Miguel, both date back to Norman times.

Surrounding area: Monasterio de Nuestra Señora de Irache, 3 kms away. A monastery built in order to accommodate pilgrims on thier way to Santiago. A mixture of Gothic, Norman and Plateresque styles. Monasterio de Iranzu, a 12th century Cistercian monastery, just a few kms away on the NA-120 road.

Carcastillo
This village is well known for its Cistercian 12th century monastery the Monasterio de Santa María de La Oliva which was founded by García Ramirez, a Navarran king.

It has an iteresting 15th century cloister and 17th century tower. The monastery is still inhabited today. The monks there live on the income from products they make such as cheese, wine and honey. There are also some rooms available for visitors to spend a night (Casa de Huéspedes). It is the only monastery in Spain with its own vineyards. It has produced very good quality wine with its won D.O. for over 99 years.

Ujué: A very picturesque village. Every year on 25th April people visit its church, the Gothic Iglesia de Santa María, to pray to its virgin.

Roncesvalles: This village is well known for the battle of Roncesvalles, between Carlomagno and the Navarran Basques in 778. One of the important stops on the Camino de Santiago. Visitors can see its 13th century Colegiata Real and also Carlomagno's chess game housed in the museum

Valle del Bidasoa: In this lovely valley there are 5 pretty Basque-Navarran villages - Etxalar (or Echalar), Arantza, Igantzi (or Yanci), Lesaka and Bera (or Vera) - with typical rustic houses. Very good places to eat as well. A good option for a day trip.
Valle del Roncal: Well known for its cheeses. A beautiful untouched natural area. You can visit the Julián Gayarre museum (the famous international tenor). On the border with France. Ski slopes in Isaba. The area is full of forests and surprising scenery definitely worth visiting.
Valle del Baztán: This valley is home to several typical pretty villages such as Elizondo and Arizkun, and also the famous caves Cuevas de Zugarramundi which during the Spanish Inquisition were the setting for many bloody acts.

Yesa: Visit the 11th century, Cistercian Monasterio de San Salvador de Leyre. This monastery was very important in its time and attracted many parishoners. King Sancho III converted it into a pantheon for the kings of Navarra. It was abandoned in the 19th century and restored in 1954. It has an interesting 11th century crypt. The monastery is now inhabited by Benedict monks, visitors can hear them singing Gregorian chants during mass. Part of the monastery is now used as a hotel.
Sangüesa: Village located very near to Aragón. In fact it has a bridge over the river Aragón which forms a border between Navarra and Aragón. It is worth visiting the 14th century Gothic churches Iglesia de Santiago and Iglesia de San Francisco. Also the pretty 13th century Norman church, Iglesia de Santa María la Real. Sangüesa's Town Hall is located in the Gothic and Baroque Palacio del Príncipe de Viana, which was once used as a residence by the Kings of Navarra.


Javier: San Francisco Javier patron of Navarra was born here in 1506 in the 13th century Castillo de Javier. He founded the 'compañía de Jesús'. The castle now belongs to the Jesuits and is used as a college. You can visit the castle and in the tower there's a museum dedicated to Saint Frances.

Golf Courses in Navarra: Campo de Golf Castillo de Gorráiz: Urbanización Gorráiz, 31620 Gorráiz Tel: 948 33 70 73 - situated 4 kms from Pamplona on the N-135, 18 holes; Club de Golf Ulzama: Located 22 kms tp the north of Pamplona on the N-121 Pamplona-Irún road, take the Ostiz turning in the direction of Lizaso, Ostiz-Lizano road km 6.8, Guerendiain, Tel: 948 30 51 62, 18 holes; Club de Golf Señorío de Zuasti: on the A-15 Pamplona to San Sebastian motorway Zuasti service station exit - 10 minutos from Pamplona, c/ San Andrés, 31892 Zuasti de Iza, Tel: 948, 30 29 40, 18 holes.
If you want to get in contact or add any further information please write to us at: euroresi@euroresidentes.com
Travelling to Lanzarote? The following links may also be useful
Guides provinces bordering with Navarra and beautiful places in Spain nearby