Vizcaya or Bizcaia (in Basque), is a Spanish province. It is also what is known as a 'Foral Territory' which means that it has economic independence. Vizcaya along with Alava and Guipúzcoa (also 'Foral territories') make up the Basque Country (Euskadi in Basque). Vizcaya has a population of 1,136,000 inhabitants and the capital city is Bilbao.
Vizcaya is located in Northern Spain, on the Cantabrian coast. This province covers 2,217 kms2 and has 80 kms of coastline. It has a changeable climate with an annual average temperature of 14ºC - 15ºC although in summer temperatures are often in the high twenties. It is not unusual for it to be cloudy and rainy even during the summer months but especially in autumn and winter.
The Basque country has 2 official languages Basque (also called Euskera) and Spanish. There are many different dialects within Euskera one of which is bizkaiera. The main routes to Vizcaya are by motorway - the A-8 and also the A-68 which goes from Bilbao to Zaragoza. If you are travelling to Bilbao from abroad, Easyjet operate cheap flights to Bilbao and Brittany operate a ferry route from Portsmouth.
History of Vizcaya:
There is evidence that pre-Roman tribes settled in the Northern part of the Basque Country. In the Western part remains of the Várdulos have been found. In 1040 Vizcaya was known as the 'Señorío de Vizcaya'. The first 'Señor de Vizcaya' was Don Iñigo López Ezquerra, (Navarran) who was given this title in return for defending the king from Castilla in the battles between Castilla and Navarra. In 1370 this title was inherited by Juan de Castilla and from the time of King Charles I it became a Royal title.
Bilbao: is the capital of the province. It is both the economic and social centre of Vizcaya. Bilbao has approximately 1 million inhabitants. It is a large industrial city which has continued to grow both culturally and economically over the years. In fact it now hosts buildings designed by some of the most famous architects in the world - the Guggenheim, the Euskalduna Palace, the metro, the new tram system and the airport in Loiu. It is clearly an up and coming fashionable city!
Culturally Bilbao has much to offer - museums, exhibitions, contemporary art, an opera house, theatres, music, cinemas...

The city has two universities; one public and the other a private university called Deusto, founded by the Jesuits in 1864, recognised for its high academic standards.
One of the focal points of the city is the Plaza del Arenal and the Arenal park. It is a popular meeting place for the city's citizens.
Bilbao is divided by the river Nervión. It is located within the wider area known as Gran Bilbao which is a green, fertile and mountainous area. Monte Artxanda, on the outskirts has some very good views over the city.
Things to do and see in Bilbao, Vizcaya
Walks: Strolling through the city and parks is very pleasant. It has almost 30kms of cycle lanes which means you can get around safely by bike. The metro and tram systems also mean you can get from one corner of the city to another very easily.
Bilbao is a city of contrasts. One area is made up of the old part (also known as el Casco Viejo) which has been declared a Historic-Artistic centre. The other part is called Abando and El Ensanche which is the commercial and financial centre of the city where most of Bilbao's new modern buildings can be found. Some of them designed by important 20th century architects from Bilbao.
The Casco Viejo (the old part): You can visit the following - the Cathedral, the Townhall, the Ribera market, San Antón church, San Nicholas church, San Juanes church, the Archeological Museum, la Catedral, el Ayuntamiento, La Bolsa, el Mercado de la Ribera, la Iglesia de San Antón, The Arenal park and the Arriaga theatre...There are also a large number of bars and restaurants. Streets: Belosticalle, Somera, La Cruz, Sombrerería, Plaza del Arenal, Plaza Nueva (19th century Neoclassic). A great place for soaking up the atmosphere.
On the lefthand side of the river you can find El Ensanche and Abando. The Gran Via is the most important street along with Buenos Aires, Plaze de España, Plaza de Moyúa, Plaza Sagrado Corazón, and Navarra (in the surrounding area you can find some great typical cafes 'el Café Iruña' is the most well known). In this area there are important buildings such as the 'Palacio de la Diputación' (local governement buildings), San Mamés football stadium, the Bellas Artes Museum, the Albia gardens, San Vicente church, Doña Casilda Iturrizar park.
Cathedrals and churches:
Santiago Cathedral: Plazuela de Santiago, 1, 48005 Bilbao. (Tel: 94 415 36 27). This Cathedral was built in the 14th century in a gothic style upon an ancient chapel dating back to the Jacobean pilrimages. The facade and the tower were added later on in the 19th century. The cloister is particularly interesting (gothic style), the crypt (placed upon the original shrine), the high altar (neoclassic) and the two porticos (one renaissance the other neoclassic) . It is located in Bilbao's old part (el Casco Viejo) and has been declared a National Historical monument.
Begoña Basilica: c/ Virgen de Begoña, 8, 48006 Bilbao. Built in the 16th century (1588) upon an ancient chapel. Neogothic in style. Inside you can see the image of the Virgin (or Amatxo) de Begoña the patron saint of Bilbao. Every year on the 15th August there is a special procession in her honour. Of particular interest: the renaissance entrance and the 14th century figure of the Amatxo de Begoña.
San Antón Church: Paseo de la Ribera. This church was built in the 15th century in a gothic style upon an ancient fortress. It has been declared a Historic-Artistic monument. Of particular interest: its bridge over the river, the Baroque tower (1777) and its portico at the renaissance entrance.
San Nicolás de Bari Church: Baroque style built by the architect Ignacio de Ibero.
los Santos Juanes Church: c/ de La Cruz, 4, en el Casco Viejo. Started by the architect Martín Ibañez Zalbidea and finished by Ramirezen (1622). It was built upon the church belonging to the Colegio de San Andrés, which was part of the Compañía de Jesús. Baroque style with renaissance elements.
San Vicente Church: Located in the Albia gardens, in the plaza San Vicente. It is in a late gothic style built in the 6th century.
La Merced Church: Built in 1675. Today it is used as a theatre and for rock concerts (Bilborock takes place here).
Museums:
The Guggenheim Museum: Avenida Abandoibarra, 2, 48001 Bilbao (Tel: 94 435 90 80). Metro: Moyúa, Bus: 1, 10, 13, 18. This contemporary art museum belongs to the Guggenheim foundaton. The amazing Post-Modern building designed by Frank Gehry, opened in 1997. It has a permanent collect of contemporary art as well as temporary exhbitions. The building itself is spectacular and is covered in titanium plaques to reflect the scales of a fish. It is located on the banks of the Nervion. The museum is now Bilbao's most visited tourist attraction and had gained world wide fame. This museum and El Marq in Alicante are the only two museums in Spain to receive the European Museum of the Year award. The permanent collection has works of art by: Anselm Keifer, Mario Merz, Richard Long, Richard Serra, Louise Bourgeois, Jeff Koons, Fujiko Nakaya, Jenny Holzer... .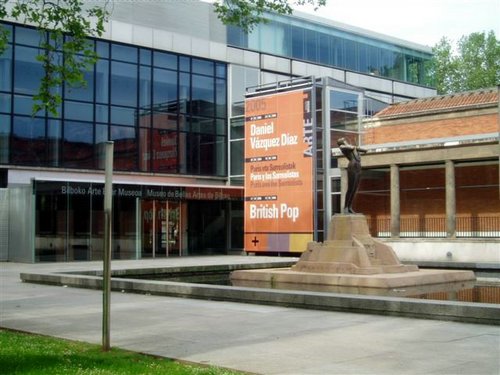 The Fine Arts Museum: Museo de Bellas Artes, Pl. del Museo, 2, 48011 Bilbao (Tel: 94 439 60 60). This museum was set up by the Townhall and the Vizcayan government and opened to the public in 1914. In 1924 the Modern Art Museum was created and in 1945 both were merged and placed in the Palacete de los Museos del Parque. Since then the museum has undergone various renovations the latest completed in 2001. Architects such Fernando Urrutia, Gonzalo Cárdenas, Segurola, Eugenio Mª Aguinaga, Alvaro Líbano and Luis Mª Uriarte have all contributed. The museums holds more than 6000 works of art including paintings, scultpures, drawings and etchings dating from the 12th century to the present day some by famous artists like Goya, El Greco, Murillo Ribera, Mengs, Tapiés, Moro, Chillida, Zuloaga, Oteiza, Cézanne, Gauguin, Delanay, Kunisada...
Sala Rekalde: Alameda Rekalde, 30, 48009 Bilbao (Tel: 94 406 87 55). This was set up in 1991 with the objective of investigating contemporary art whether it be Spanish or from abroad. Debates about art are held here as well as exhibitions, films and conferences. The building covers 800m2 and is divided into exhibition halls, study rooms and offices.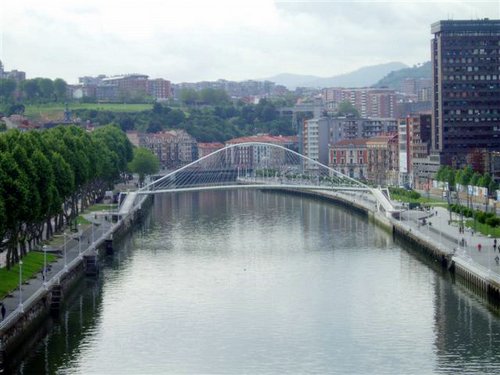 The Archeological, Ethnological and Historic Basque Mueum: Plaza Miguel de Unamuno, 4, 48006 Bilbao (Tel: 94415 54 23). This museum was opened in 1921. It is located in the old part (el Casco Viejo), near the Ribera market and the Cathedral in a former Jesuit church (Baroque). It holds a collection of artifacts from the Basque country dating from prehistoric times to the present day. It has some temporary exhibitions as well as its permanent collection.
The Maritime Museum Bilbao: Muelle Ramón de la Sota, 1, (Tel: 902 131 000). This is located opposite the Euskalduna Palace and has exhibition rooms, an archive, an auditorium, a shop and a cafe. Very near the river.
Important buildings:
The Townhall: This neoclassic building with unusual features was built by the architect Joaquín de Rucoba. It was completed in 1892. The Arabic room is particularly interesting. You reach this building by crossing the townhall bridge.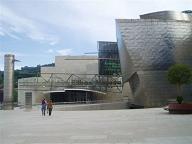 Palacio de la Diputación (Council buildings): Opened on 31st July 1900. This is an eclectic building by Luis Aladrén.Inside you can see frescos by Anselmo Guinea. The windows are particularly interesting.
The Euskalduna Palace: Avenida Abandolbarra, 4, (Tel: 94 403 50 00) This is both an auditorium and conference centre. It is located on the banks of the river Nervión. A modern building, opened in 1999, made of steel and glass, covering 25,000m2. Its architects were Federico Soriano and Dolores Palacios. It has 100 meeting rooms, an auditorium, a library, shops and a restaurant...
The Arriaga Theatre: Plaza de Arriga, 1 (Tel: 94 416 35 33). This was built by Joaquín de Rucoba at the end of the 19th century in an eclectic style with French influences. It offers a varied programme of events throughout the year covering theatre, dance, music (opera and concerts). Located in the Arenal park. it overlooks the PLaza de Arenal.
La Ribera Market: This was built in 1929 by Pedro de Ispizua and Susunaga. It has some very pretty glasswork. This market is very good for its fresh fish and seafood.
Palacio Foral de Vizcaya: Gran Vía, 21. This was built at the beginning of the 20th century by Luís Aladrén. It consists of various architectural styles. Its interior decoration is particularly interesting.
Chávarri Palace: Plaza de Moyua, 5. This is one fo the Vizcayan government buildings, it was built in 1894 by Atanasio de Anduiza and Uribarri , with modernist touches. It was once home to the Chávarri brothers who were well known engineers. It has an interesting marble facade in different colours.
Plaza del Arenal: One of the focal points in the city centre together with the Arenal park they both serve as a meeting place for the young and old alike. Located in the old part (el Casco Viejo).
The Stock Market: Located in the former Vargas palace. Built by Enrique Epalza in 1905.
Metro: Opened in November 1995 and designed by Norman Foster. Large, modern and efficient stations well worth a trip.
The Airport: This is the result of a spectacular design by the architect Santiago Calatrava. Located 10kms outside the city centre in Loiu.
Plaza de Toros de Vista Alegre: Located in Indautxu. It was opened in 1962 and built by the architect Luis Gana in a Neoarabic style. It has a capacity for 15,000 spectators.
La Alhóndiga: Built by Ricardo de Bastida in 1909.
Parks and Gardens: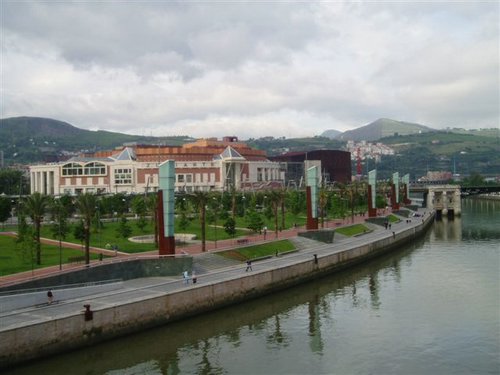 Arenal Park: Located on the banks of the Nervión (righthand side). A meeting place for Bilbainos. The park has lots of different types of trees from oaks, chestnut trees to lime trees (symbol of the city).
Doña Casilda Iturrizar Park: Built between 1912-1920 in a French style. It has lots of different types of trees, a lake with ducks, a band stand which offers live music in the summer. It is the biggest park in Bilbao. There are various statues of famous artists scattered throughout the park. There is also a cybernet point in the park.
The Albia Gardens: Located in El Ensanche. Very peaceful, surrounded by modern, elegant buildings. Some call the gardend the the lungs of Bilbao.


Fiestas and festivals:
Semana Grande: Bilbao's 'Semana Grande' (Aste Nagusia in Basque) are the city's largest fiestas and take place for a week starting on 15th August, a day on which the 'virgen de la Asunción' is celebrated. The fiestas cover everything from processions, free rock concerts and all night partying in the old part.
Santo Tomás: 21st December in the Plaza Nueva. This one day fiesta takes the form of a typical traditional food market where all sorts of local products can be tasted but especially 'chistorra' (pork sausage).
San Ignacio de Loyola: 31st July; Carnivals: (6 weeks before Easter week), Easter week...
Hotels and Accommodation: See our Guide to Hotels in Bilbao

The Province of Vizcaya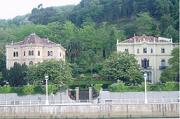 Vizcaya Province is a green, fertile, mountinous area of Spain where the climate is variable. It has a spectacular landscape. There are a number of National Parks where adventure sports are very popular. These are 'las Sierra de Gorbeia' and 'Urkiola', where there is beautiful scenery and a rich mix of flora and fauna. You can go horse riding, cycling, fishing, rafting, bungee jumping, hiking, paragliding...
The Urdaibai Natural Reserve, near Bilbao, is a very rich natural area where you can find many different species of birds, fish and animals...You can also do many sports here such as diving, sailing, fishing, canoeing, surfing...The natural parks include the following towns and villages: Gernika, Bustuna, Sukarrieta, Mundaka, Bermeo, Kanala, Burritxana and Elautxobe. In 1993 it was declared a Biosphere Reserve by UNESCO.
Both participating in and watching sport is very popular in Vizcaya as in the rest of the Basque Country. You can find all sorts of different sports to either do or watch such as rowing, athletics, football, rugby, cycling...However the Basque Country, also has some traditional sports that can only be found here such as wood chopping competitions, lifting heavy blocks of stone. There is also Basque pelota and cestapunta (a type of squash using a basket tied to your hand where a ball is hit against a wall in a 'fronton' court...

Places of interest in the province:
Gran Bilbao: This is an area covering Bilbao and its surrounding areas covering the Nervión and Asúa Valleys.
Portugalete: Famous for the 'Puente de Vizcaya'. This is where you can see the hanging bridge which was declared a World Heritage Site in July 2006. It links both Portugalete to Getxo. It was designed by Alberto de Palacio in the 19th century and is currently used as a car ferry.
Getxo: Located on the righthand side of the Nervión. This is predominantly a residential area. Of particular interest: Andra Mari church (12th century),Aixerrota Mill (1727), Lezama-Leguizamón Palace (1901). It also has some good beaches: Aizkorri, Barinatxe (with a blue flag)
Duranguesado: The Ibaizabal river basin.
Durango: Originally a medieval city which belonged to the Kingdom of Navarra in 1187, The Castellano Kingdom of Castellano in 1297. Of interest: Arco de Santa Ana (15th century), Santa Ana Church (15th century - Baroque).
Amorebieta-Etxano: Santa María Church (10th century), Zornotza Tower (12th century)
Ermua: Santiago Apostol Church (Renaissance 1600), Lobiano Palace (Renaissance 16th century) and the Valdespina Palace (Baroque 18th century).
Lea-Artibai/la Marquina Area: Coastal areas which incorporate the Lea and Artibai river basins.

Ondárroa: It has a medieval old part (el Casco Antiguo) , Santa María church (Burgandian 15th century), Likona tower 15th centurys (San Ignacio de Loyola's mother was born here).
Leikeitio: Coastal fishing town, popular in summer. It has some very good beaches. Beautiful scenery, some houses overhanging the river. Of interest: Santa María de la Asunción church (gothic 15th century).
Bustuialdea-Urdaibai (Gernika):Mundaka river estuary.
Gernika: A great symbol of Basque history and the scene of a horrific air attack during the Spanish Civil War which inspired Picass's famous painting. For more information on this important town see Guide to Guernica
Casa de las Juntas Gernika (The former Basque Parliament building): Council meetings take place here. There is a museum, an archive and an ancient church (Santa María de la Antigua) set within the enclosure.
Baroque cross: 16th century, located in the neighbourhood called Renteria.
Santimamiñe caves: Prehistoric caves located in the Santimamiñe chapel.
La Casa de Nuestro Padre: Monument dedicated to peace by Eduardo Chillida (1968).
Churches: Santa María (15th century), Santo Tomás (13th cenutury)
Palacio de la Alegría: Now the Euskal-Herría museum (Baroque 17th century).
The Biosphere reserve Urdaibai: (click here for more information).
Bermeo: This is a fishing village popular in the summer. Beautiful scenery. Of interest: San Juan de Gaztelugatxe - a small island opposite which has a small chapel.
Mundaka: Coastal summer village. Beautiful scenery. Of interest: Santa María church (11th century) and its beaches: Mundaka (popular for surfing), Laidatxu and Bakio beach is very near.
Uribe in Munguía: Butrón valley.
Las Encartaciones: This is the most Western area of Vizcaya. Rich in fruit trees, vineyards (where they grow grapes for Txacoli) and vegetables. Mountinous countryside.
Valle de Carranza: Pozalagua prehistoric caves.
Zalla: Of interest: This is a small city with 4 churches, 10 chapels, 7 palaces, La Casa de Juntas de Avellaneda is also represented by a tree below which meetings used to take place to decide what needed to be done in the area.
Arratia-Nervión: Arratia valley, Nervión and Ortuña river basin.
Beaches in Vizcaya: Getxo, Goritz, Lemoiz, Bermeo, Laga, Ea, Lekeitio, Aizkorri, Barinatxe (all these are in Getxo and have been awarded the blue flag); Mundaka and Laidatxu (both have blue flags and are in Mundaka)
If you wish to contact us or add any furhter information please write to us here: euroresi@euroresidentes.com


Travelling to Lanzarote? The following links may also be useful
Guides provinces bordering with Vizcaya and beautiful places in Spain nearby