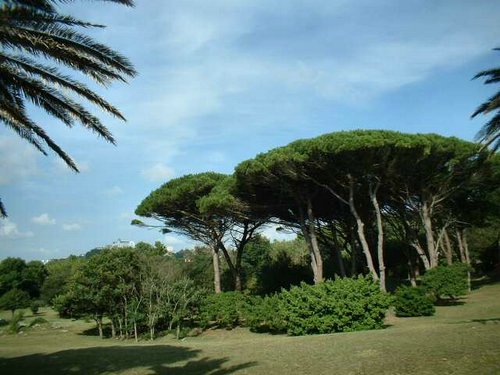 Cantabria is situated on the Cantabrian coast in the north of Spain. The capital is Santander. It borders the Principado de Asturias in the west, Vizcaya in the east and Palencia and Burgos in the south. Cantabria has a population of 535,000 inhabitants and covers an area of 5,289 km2.
It has a typical climate for the Atlantic coast. It often rains throughout the province of Cantabria and temperatures are never very extreme. The average temperature in winter is 9ºc and 20ºc in summer. However, further inland in more mountinous areas temperatures can drop sharply in winter, and are sometimes accompanied by heavy snowfalls.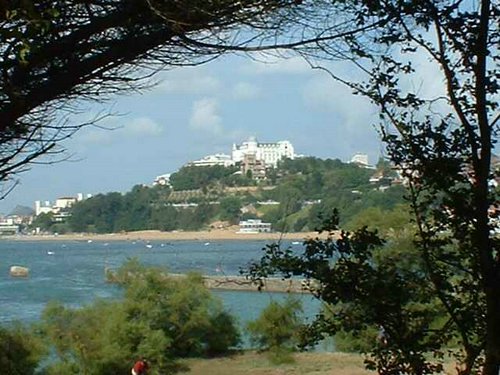 Due to its humid, rainy climate the countryside in Cantabria is very lush. There are lots of forests where you can see many different types of trees (oaks, chestnuts, beech, elms, maples, ash...). There are several National Parks and nature reserves. In the mountains the forests consist mainly of pine and eucalyptus trees. Cantabria has lots of beautiful green valleys too.
Rural tourism is very popular in Cantabria. Its an ideal place to go to get away from the city, relax and enjoy the countryside. There are spas, prehistoric caves, quaint, historic villages, mountains, beaches (around 60), golf courses, places to go fishing....
The airport is in Maliaño, 5 Kms from Santander. Both national and international flights operate from the airport. Around 660,000 passengers pass through its doors every year. Air Nostrum operates daily flights to Barcelona, Madrid, Alicante, Valencia, Málaga, Gran Canaria and Palma de Mallorca. Ryanair also operates from this airport with daily flights to London, Liverpool, Roma and Frankfurt. The port in Santander is used both by cargo ships and passenger ships. You can travel by ferrry to Plymouth, England from here.
History of Cantabria
Cantabria has some important primitive remains. The Altamira, the Puente Viesgo, El Pendo and La Garma caves all date back to the stone age.
Around 1000 B.C. the Romans first gave Cantabria the name Cantabro. Despite fierce resistance the Romans finally conquered Cantabria. They remained there for 4 centuries, during which time they dominated the way of life (architecture, ceramics...). There are several sites where Roman remains can be seen, the most important are in Julióbriga and Camesa-Rebolledo.
The Visigothics were the next to occupy Cantabria between the 4th and 5th centuries. However, in 771 the arabs invaded the Peninsula and in 712 the Visigothics were defeated.
Alfonso I, responsible for creating the Astur-Cantabra monarchy and uniting the Romans, Cantabros and Visigothics, defeated the Arabs and returned the territory to Christianity.


During the Middle Ages, Cantabria became a feudal kingdom in which the churchand the nobility reigned. Twenty monasteries were built (Santa María de Piasca in Liébana, Santa Juliana, San Martín de Turieno, San Pedro de Cerratos, Santa María de Aguilar and San Martín de Elines, the last 3 were in Campoo). In the 12th century Santander's port gained importance with exports of wool. The the fishing industry also gained prestige during this period.
In 1466 Enrique IV dontated the city of Santander to Diego Hurtado de Mendoza, the second Marquess of Santillana.
During the reign of Felipe II and Carlos V, the port was used to travel to the low countries. Likewise in the 17th century, the city gained wealth due to the boom in commerce between Spain and America.
In the 20th century Santander underwent increased industrialization, thanks to foreign investment. It also became the summer home to royalty and nobles. Santander gained the reputaion of a genteel city thanks to Alfonso XIII and Victoria Eugenia who used to spend summers there, staying in the Palacio de la Magdalena.
Capital city of Cantabria
Santander is the capital of the province of Cantabria. See Guide to Santander.
Places to visit in the province of Cantabria
Camargo: Prehistoric cave (el Pendo); the Cantabrian Ethnography museum located in the Cabárceno safari park in Casa Velarde; the townhall in Palacio del Marqués de Villapuente


Campoo and Valderredible: A high mountainous area, good for fishing, hiking, skiing, hunting. Also an interesting area for caves, ruins, mansions...


Reinosa: This is a typical village with pretty stone houses.

Julióbriga: Roman ruins
Iglesia de San Sebastián: Baroque, built in 1774.
Plaza del Ayuntamiento: Houses and palaces from the 16th and 17th centuries.
Arroyuelo and Cadalso: 2 churches (9th and 10th century) built in the rocks.
Cervatos: Romanesque church with erotic sculptures in the facade.

Fontimbres: Source of the Ebro river.
Camesa Rebolledo Roman ruins, the 4th Roman legion used this place until III A.D.



Castro Urdiales: Fishing village, summer resort - good beaches.

Iglesia de Santa María de la Asunción: This church is attached to a castle. It is a 13th century, Gothic church. An interesting crucifix and image of the virgin (13th and 14th centuries).
Casa de los Chelines: Neogothic with Modernist touches. Built in 1902 by Severino de Achúcarro. Located in the townhall square.
Various interesting palaces and mansions: Isidra de Cedro's house, San Martín chalet, los Sotileza chalet, home to Pedro Velarde.



Ramales de la Vistoria: Prehistoric caves, located 20 kms from Castro Urdiales.


Laredo: One of the most popular summer resorts, good beaches (Salvé beach is 6kms long). It has well known fiestas called the battle of flowers.

Iglesia de la Asunción 13th century. Gothic.
Puebla Vieja



Santoña: Fishing village and summer resort, good beaches.

Castillo de San Carlos: Medieval castle.
Fuerte de San Martín and Fuerte de Napoleón: Medieval forts.



Noja and Isla: These are 2 coastal villages, busy during the summer months. It has pretty stone houses and palaces built by those who returned from America.


Santillana del Mar: This village dates back to Medieval times. Many of the 12th century buildings have been very well preserved. Things to look out for: Santa Juliana church, the Romanesque monastery - given special cultural status in 1989. The 15th - 17th century houses and palaces here are impressive. There is a Parador in the main square. The Religious Art Museum is also in the same square. The streets are full of craft shops, galleries and tourist shops.


Altamira Caves: A World Heritage site - these caves were discovered in 1879 by Marcelino Sanz de Sautuola. The cave paintings date back 18,000 years B.C. They are thought to be the oldest example of Stoneage caves in the world. The caves are 270 metres long. Only 9000 visits are allowed per year. Reserving a ticket beforehand is strongly recommended.


Comillas: A touristic city with a good beach. Various interesting Modernist buildings built by the Marquess of Comillas.

El Capricho de Gaudí: 1889, by Antonio Gaudí, Now used as a restaurant. Modernist style with Arabic influences.
Sobrellano Palace: 1881, by Joan Martorell, Neogothic.
Pontificia University: 1889, by Joan Martorell ( a Domenech i Montaner project).



San Vicente de la Barquera: A historic fishing village. Touristic. Roman origins. Many Medieval buildings dating back to the reconquest. Good beaches (for further information see the section on beaches below). Good restaurants around the beach and port where you can get excellent fish and seafood.

Iglesia de Nuestra Señora de los Angeles: Romanesque-Gothic. Founded by Alfonso VIII, upon the remains of a settlement and next to the castle. The 17th century altarpiece and 15th century painting of the virgin are interesting.
Castle: Medieval, built by Alfonso I upon the Roman settlement Vereasuecao- parts of the city walls remain intact.



Suances:Coastal town. Popular holiday resort. It was once a Roman settlement.

Various 17th and 18th century palaces: Polanco de Suances palace, los Ferrero palace, los Velarde en Hinojedo palace and Quirós palace.
Iglesia de Ntra. Sra. de Lindes: 18th century.



Potes: Capital of the area. Located in the Liébana valley.

Torre del Infantado: This tower was built to defend the city, it is located in the main square.
Santo Toribio de Liébana Monastery: Said to have a piece of the cross on which Jesus was crucified - the "Lignum Crucis".



Cabezón de Liébana: Village mountain. Cocido Labaniego is a well known dish from here - it is a very tasty type of stew.


Torrelavega: This is the second most important city in Cantabria. It is an industrial and commercial city.

Iglesia de la Asunción: Built in 1901 by José María Basterra. Neogothic.
Townhall: Located in the Demetrio Herrero palace, built by Joaquín Rucoba.



Cabuérnigo: There are some unspoilt, typical Cantabrian villages such as: Barcena Mayor and Saja in the Cabuérniga valley.


National Parks and Nature Reserves in Cantabria
Los Picos de Europa National Park: 700 Km2 of territory that covers Cantabria, Asturias, Castilla y León. It is the biggest national park in Europe. The mountain peaks are very high and create a beautiful landscape. It is a paradise for hikers and climbers. The park is made up of valleys, high mountains and gorges. The highest peak is the Naranjo de Bulnes at 2,159 metres above sea level, the Ercina and the Enol lakes are located at the foot of the Peña Alta peak. Covadonga, Arenas de Cabrales (this is where Cabrales cheese is made) the Parador are all located within the park.
The Saja-Besaya National Park: This covers an area of 245 Km2. It includes the source of the Saja river and the surrounding valleys. It is includes an important hunting reserve. Located in the western part of Cantabria.
Las Dunas de Liencres National Park : This consists of a beach and sand dunes along the estuary of the river Pas.
Oyambre National Park: Located between San Vicente de la Barquera and Comillas. It covers 57 Km2. It is an area of marshes near the Oyambre beach (4 kms long). The marshes attract large numbers of water and migratory birds. There is a medieval tower on the beach which has been used to spot whales along the coast.
Peñacabarga National Park: This was made a reserve in order to protect the Cabarga mountain range which overlooks the bay in Santander.


Beaches in Cantabria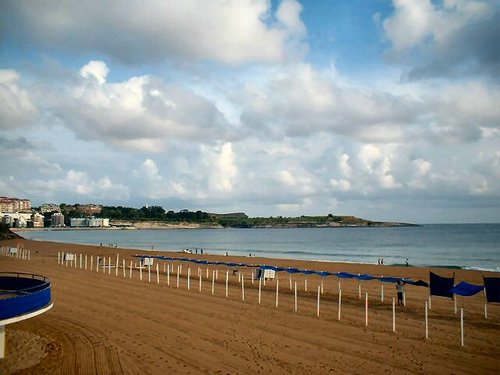 There are 60 beaches in Cantabra. Most of them have fine, golden sand and very clean water and have been awarded the blue flag of approval by the EU. The following are the most popular:

Concha beach in Santander
Sardinero beach in Santander (both have blue flags)
Camello beach in Santander (blue flag)
Comillas beach in Comillas (blue flag)
San Vicente de la Barquera beach
Rosal-Merón beach in San Vicente de la Barquera (blue flag)
Oyambre beach in Tejo
Salvé beach in Laredo (blue flag)
Somo beach
Magdalena beach in Santander
Bikini beach in Santander
Luaña beach in Alfoz de Lloredo (blue flag)
Loredo beach in Ribamontán del Mar
Arena beach in Arnuero (blue flag)
Quejo-El Sable beach in Arnuero (blue flag)
Ris beach in Noja (blue flag)
Berria beach in Santoña (blue flag)
Ostende beach in Castro Urdiales (blue flag)
San Juan de la Canal beach in Santa Cruz de Bezana (blue flag)
Fiestas in Cantabria
25th July:Known as 'la Semana Grande' (Big Week) These fiestas celebrate Santiago - There are bull fights, fireworks, a fairground and much more...it all lasts a week starting on 25th July.
31st August: Fiestas to celebrate San Emeterio and San Celedonio.
19th May: La Virgen del Mar, patron saint of Santander
16th August in Santillana
15th August in Torrelavega.
16th September in Torrelavega.
8th September in San Vicente de la Barquera
15th August in Cabezón de la Sal, this celebrates Cantabria day.
23rd June: San Juan fiestas in Soto.
At the end of April: La Folía in San Vicente de la Barquera. A statue of the virgin is taken out in a boat so that she can bless the sea.
The last Friday in August: in Laredo, Battle of the Flowers.

Travelling to Cantabria? The following links may also be useful
Guides provinces bordering with Cantabria and beautiful places in Spain nearby