Cádiz is part of the Andalucian Autonomous region. It is located in the South of Spain on the Atlantic coast. It has a mixed climate partly mediterranean and partly Atlantic with temperatures not usually rising above 34º in summer.

Winter temperatures are usually quite moderate too with the average yearly temperature of around 18ºc. It has moderate rainfall and never snows. However it can often be very windy. Cádiz covers an area of 592kms and has a population of 402,256.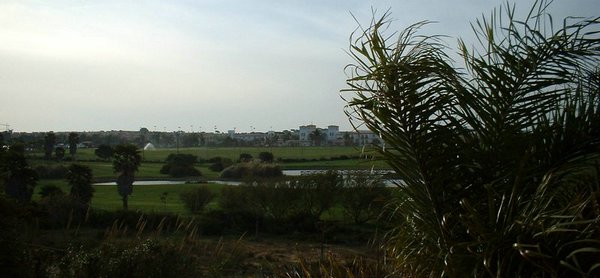 Fishing, commerce and tourism provide Cádiz with its main sources of income. It's main ports are Cádiz, San Fernando, Puerto Real, Puerto de Santa María, Chiclana and Algeciras.

In recent years Cádiz has grown in popularity as a holiday destination especially among families seeking good weather, wonderful long sandy beaches and fewer crowds than the nearby and busier Costa del Sol. As a result the number of hotels, apartments and other services has risen over the past few years, and the standard is generally very good indeed. Cádiz is also very popular with surfers, as it is one of the few places in Spain to offer great weather and high waves. And for visitors who want to explore the province, the white villages dotting the inland mountains are beautiful.

History of the province of Cádiz

Cádiz is considered to be the oldest Western city due to its strategic location on the coast dividing Europe and Africa. It has been occupied several times over its history and there is some evidence to suggest that Cádiz was a Fenecian settlement around 1000 B.C. and that it formed part of the Fenecian trade route to the Atlantic. Later on came the Greeks, the Cartagens and then the Romans. From the 8th century onwards it was taken over by the Moors. The in the 11th century Alfonso X took control of the province reconverting it to Christianity. In the 13th century Cádiz gained importance as the place where Christopher Columbus set sail from on his discovery voyage to America.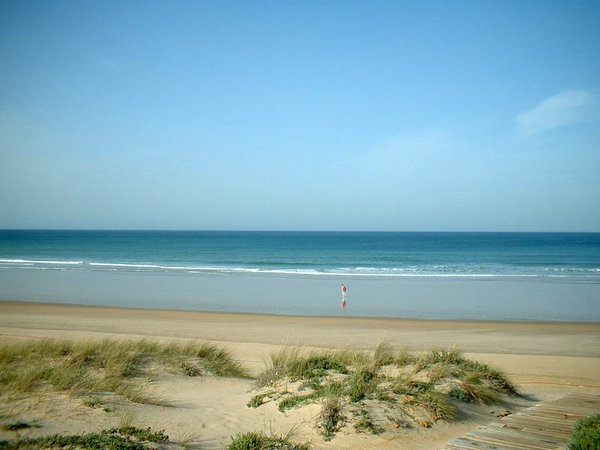 The city wall and its entrances which surround the old part and many of its ancient monuments were built by Cristóbal de Rojas in the 17th century. Thanks to him the first plan of the city was drawn up in 1609. In 1713 following the treaty of Utrecht, Spain handed over Gibraltar to the British.
During the 17th and 18th centuries Cádiz grew rapidly due to its trade with Amercia and the liberalisation of commerce. Sherry made in nearby Jerez began to be exported all over the world. And it was during the 18th century, known as the 'golden century' that Cádiz monopolized sea trade. In 1812, during the French occupation, the Cádiz parliament met and the first Spanish Constitution was written converting Cádiz into the political centre of Spain.
What to do and see in Cádiz
Son los dos barrios más castizos y antiguos de Madrid. Es el antiguo barrio medieval de Madrid. Están formado por callejuelas estrecha y muchas de ellas en cuesta y sus casas muchas son antiguas corralas, que formaban parte del barrio árabe. A destacar: La Puerta del Moro, entrada a dicho barrio; la Basílica de San Francisco El Grande, situada en la Carrera de San Francisco, la Plaza de la Paja, donde se encuentra situada Iglesia de San Pedro de estílo mudéjar del s. XIV, la Capilla del Obispo s. XVI de estílo gótico-renacentista; ahí se encuentra el famoso mercado de segunda mano El Rastro, al que se accede desde la Plaza Mayor por la calle cuchilleros y la Puerta de Cuchilleros. En este barrio también encontramos restaurantes típicos, tan conocidos y antiguos como: antigua Casa Botín, Casa Lucio.
Walks
:
Cádiz is a port city with grand avenues, squares and gardens so just strolling around is a good way to soak up the atmosphere and get a feel of the place.
Palaces and Castles in Cádiz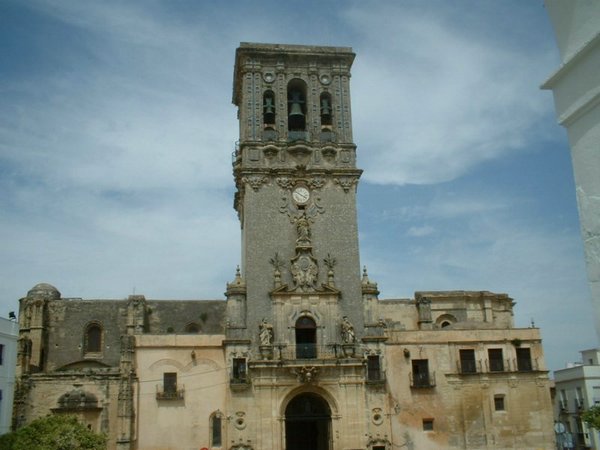 Puerta Tierra: Part of the city wall with two fortifications (San Roque y el de Santa Elena), built in the 18th century. The city entrance is in the middle of the wall.
San Sebastián castle: This is a building located on the small island off la Caleta beach. It was built in 1706 as a fort to defend the northern side of the city.
Santa Catalina Castle: This is a 17th century building built for defensive purposes to defend the northern side of La Caleta beach. It is now used as an exhibition centre and concert hall.
Baluarte de la Candelaria: This is a fort located in Cádiz bay. Built in 1672.
Torre Tavira: c/Marqués del Real Tesoro, 10. Located in the upper part of Cádiz's it has a good view of the horizon. It is now an exhibition centre. The room called the Cámara Oscura is particularly interesting.
Teatro Romano: Cádiz's roman theatre which was only discovered in 1980. Located in the area known as the Barrio del Pópulo between the old Cathedral and the Arco de los Blancos. It is thought to have been built in the 1st century B.C. during the time of Julia Ceasar.
Baluarte de San Roque y Santa Elena: Two forts located on either side of the city entrance in the city's wall.
Arco de los Blancos: Located next to the old Cathedral in the area known as the barrio de Pópulo. This is the Western entrance to the city built by Alfonso X el Sabio in the 13th century.
Cathedrals and Churches in Cádiz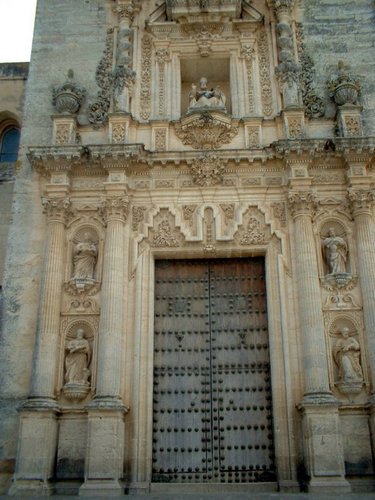 The Cathedral: Construction of this cathedral started in 1722 and ended in 1838. During construction it had 7 different artchitects something which is reflected in its various styles.
The old Cathedral: Located in the area known as the Barrio del Pópulo, next to the Arco de los Blancos. Used as Cádiz's cathedral until 1838. It was built upon an ancient mosque under the orders of Alfonso X el Sabio. Destroyed various times over its history, only the vault and entrance remain.
Nuestra Señora del Rosario and Santo Domingo de Guzmán Church: A temple built in the 17th century by Antón María Calafate and Bartolomé Ruíz. It was reformed in 1666 by Luis de Lojo. It was restored in the 20th century. The marble altar is particularly interesting.
Nuestra Señora de los Remedios del Convento de San Francisco Church: Founded by the Franciscan order in the 16th century.
San Agustín Church: Founded by the Augustinos in 1617 - neoclassic style.
Oratorio de San Felipe Neri Church: Located in the Plaza San Felipe Neri. 17th century church which during the French occupation was the place where Cádiz's parliament met. It is the place where the first Spanish constitution was written in 1812. Its walls are adorned with plaques commemorating those who took part in drawing up the constitution. Some of the members of Cádiz's parliament are buried in the crypt. There is an interesting painting by Murillo.
Oratorio de la Santa Cueva Church: c/ del Rosario, E. This is a small chapel in a neoclassic style. It has 3 paintings by Goya.
La Palma Church: Located in the area known as the Barrio de la Viña. Built in the 18th century in a baroque style.
San Antonio de Padua Parish Church: Built in the 17th century and remodelled in the 19th century in a baroque style.
Nuestra Señora de las Angustias, del Caminito Church: A beautiful chapel, built in 1701, located in the old part of Cádiz on a cliff edge. It offers some wonderful views.
Museums in Cádiz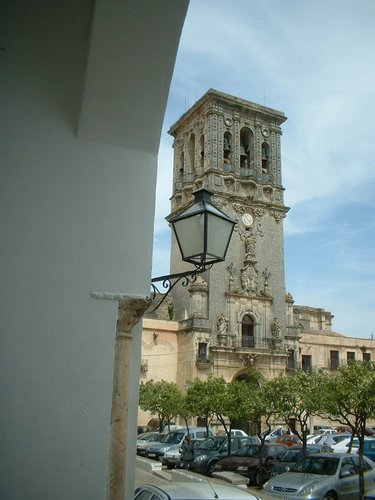 The Archeological Museum: Located in the Plaza de Mina in a 19th century building by Juan Daura.


Real Academia de Bellas Artes Museum: Located in the Plaza de Mina. It houses a collection of Fenecian and Roman art. it has a sarcophagus and Spanish 17th to 19th century art mainly by Murillo and Zurbarán.


The Municipal Museum: c/Santa Inés/ next to junto San Felipe church. This museum covers the city's local history very well.


Cádiz Museum: Located in the Plaza de Mina built by Juan Daura. The museum has 3 sections: Archeology, Bellas Artes and Ethnology.


Other interesting Buildings in Cádiz
The Town Hall: Located in the Plaza de San Juan de Dios. Built in 1799.


The Central Market: Located in the Plaza de las Flores. Built in 1837 in a neoclassic style.


The Chamber of Commerce: c/ Antonio López/plaza de Mina. Built in 1801 by José Gabarrón in a neoclassic style. This was the headquarters for the Bank of Spain before it became the Chamber of Commerce.
Aramburu House: c/ Veedor, 3. This is a 18th century palace built which was restored in the later part of the 19th century.


Cádiz University Rector's Office: c/Atocha,16. Built at the beginning of the 19th century in a neoclassic style.


Palacio de la Diputación: Located in the former Customs building in the Port. Built in 1765 by the architect Juan Caballero.


Balneario de La Palma: c/ Duque de Nájera, 3. This is where the Centre for subaquatic archeology is based, it is located on La Caleta beach.


The Provincial Archives: Located in a 16th century building called Casa de las Cadenas.
Parks and Gardens in Cádiz
Parque Genovés: This park was created in the 19th century when the Paseo del Perejil was expanded. It has many different species of trees brought over from America.


Monuments
Monument dedicated to the Cortes de Cádiz de 1812 (Cadiz Parliament): Located in the Plaza de España. Designed by the architect Modesto López Otero and the sculptor Aniceto Marinas between 1912 and 1929. It consists of 2 bronze statues which represent peace and war and a central pillar where the text of the
constitution is written.
Shopping in Cádiz: Typical Cádiz products include wine, cold meats, cheese, sherry, olive oil... The most important food markets are Mercado Central de Abastos, la Merced and San José. There is also a lot of craftwork on offer such as ceramics, furniture, blankets and ponchos.
Cádiz Province: It has 1,260 Kms of coast, of which about 200 Kms are beaches. Cádiz is Spain's most southern province and covers an area of 7,385 kms with a million inhabitants. The most outstanding features of this province are its beaches and coastline with clean sparkling water. There are many different types of beaches from natural untouched coastline to more developed touristic areas. It has an average temperature of 34ºc in summer with fresher temperatures at night.

What to eat in Cádiz: Cádiz cuisine has clear Fenician, roman, arab and colonical traits, and differs according to where you are. Delicious fresh seafood, fish soups and rice dishes on the coast contrast with dishes made with game, beef, goat, pork, river trout and vegetable-based stews inland. Try the excellent hams and other pork products and local olive oil on offer in the mountain villages. Typical dishes from Cádiz include:
Coastal areas: Tortitas de Camarones (small thin crispy omlettes with tiny prawns), calamares en su tinta (squid in its ink), fideos con gambas y almejas (noodles with prawns and clams), all kinds of shellfish including sea urchin, crab and lobster...
Inland: the local vinager and sherry produced in Jerez plays a key role in dishes inland. Try la perdiz estofada (partridge casserole), revuelto de esparragos trigueros (scrambled eggs with fresh asparragos), aceitunas aliñadas (marinated olives), ajo caliente (warm garlic)...
Mountain villages: caldereta de cordero (lamb casserole), guiso de rabo de toro (oxtail stew), wild game, esparragos trigueros (grilled asparragos).
Wine is very important to the local economy in the province of Cádiz and there are important bodegas in Jerez de la Frontera, El Puerto de Santa María, Sanlúcar de Barrameda y Chiclana de la Frontera.
Where to stay in Cádiz: Click on Cádiz hotel guide for a review of the best hotels in Cádiz capital city and surrounding areas. See also our selection of cheap hotels in Cádizfor comfortable hotels offering an excellent price: quality ration and hotels in Jerez for nearby alternatives.
What to see and where to visit in the Province of Cádiz
Sports in Cádiz: Water sports such as sailing, windsurf and flysurf are popular due to the fact that it is often very windy on the coast. Also a lot of people enjoy fishing, diving and riding jet-skis. Hunting is also a popular pastime in this province where there are 60 hunting reserves.
Golf is currently very popular. There are 21 golf courses in the province. In general all of them are good and some are exceptional such as Sotogrande or Montecastillo where major tournaments like the Ryder Cup take place (in Jerez de la Frontera). Here is a selection of the best golf courses in Cádiz (click on name for details):
In the mountains you can do sports such as hand gliding, bungee jumping, cycling, pot holing and horse riding. There are many horse riding schools throughout the province. In Jerez de la Frontera there is a famous motorbike and car racing circuit.
Ruta de los Pueblos Blancos (white villages route): These white villages located towards the north of the Province are mountain villages made up of small white houses. These villages normally have Roman or Moorish archeological remains. This area has been declared a Biosphere heritage site by UNESCO. There are 19 white villages, the most interesting being:

Grazalema: The rainiest place in Spain.
Arcos de la Frontera: It has a lovely parador hotel clinging on to the side of the mountain, lots of winding streets and monuments.
Bornos: Visit Castillo de Fontanar and its renaissance gardens.
Espera: Visit the remains of Roman city Carisa Aurelia , 2 Roman necropolis, the wall and a mausoleum (2nd- 4th century)
Algodonales: This one of the entrances to the Grazalema National Park.
Villamartín: El Dolmen de Alberite a megalithic monument dating back 6000 years.
Puerto Serrano: Mountain sports: horse riding and hiking.
Olvera: Declared a historical and artistic centre.
Setenil de las Bodegas: Village with houses built in spaces between the stones caused by river erosion.
Torre Alhámique: A Nazarite fort fortaleza nazarí de la que se conserva la muralla.
Grazalema National Park: You can visit the villages El Bosque, Benaocaz, Villaluenga del Rosario and Ubrique.


Ruta de pueblos Romanos (Roman villages route): You can take two routes, one in the interior and one on the coast. Some of the villages also form part of the white villages route.
Roman route on the coast: Cádiz, San Fernando, Chiclana, Conil, Veger, Barbate, Zahara de los Atunes, Tarifa and Algeciras.
Roman route in the interior: Medina Sidonia, Paterna de Rivera, Arcos de la Frontera, Espera, Bornos, Villamanrique, Prado de Rey, El Bosque and Ubrique.


Jerez de la Frontera: This city is recommended for its charm, elegance and historical monuments. It has Palaeolithic origins and other cultures such as the Fenecians, Romans and especially the Moors have also left their mark on the city. Located in the middle of countryside, 28 kms from Cádiz, there are many things which make this an attractive place to visit: the old part which was declared a historical artistic centre, the famous riding school, the motorbike and car racing circuit and wine cellars.
Places of interest along the coast of Cádiz
Sanlúcar de Barrameda: 18th century botanic gardens designed José Celestino Muti. Located on the Guadalquivir estuary at the entrance to the Doñana national park (considered to be the most important nature reserve in Spain).
Chipiona: Village popular with summer tourists with 4 beaches and good facilities.
Rota: Two excellent beaches: Punta Candor and la Almadraba
Puerto de Santa María: Located in Cádiz bay. A lot of historical sites: San Marcos castle (10th century), Prioral Mayor church (15th century) and a bullring. The best beaches are: La Puntilla, Valdelagrana, Fuentebravía, Puerto Sherry and la Caleta Real. Busy in the summer, good bars and restaurants.


Puerto Real: Fishing and industrial city
San Fernando: Known as "La Isla", salt marshes and sea.
Chiclana de la Frontera: Salt marshes, pine forests and 9 kms of beaches. La Barrosa, located in the tourist resort of Novo Sancti Petri, is one of the best beaches in the province. Sancti Petri: tourist resort with lots of hotels, chalets, apartments, restaurants and sports facilities: golf, horse riding, sailing, water skiing, diving...
Conil de la Frontera: Fishing village with 14 kms of beaches. Good nightlife.
Vejer de la Frontera: Medieval village with some Moorish remains located on top of a hill. Nearby beaches are:Trafalgar and El Palmar.
Barbate: Santiago castle. Touristic fishing village with beaches: Carmen, Yerbabuena and Caños de Meca.
Zahara de los Atunes: Touristic fishing village.
Tarifa: Good for water sports: windsurfing, sailing... beaches:Bolonia, Los Lances, Punta Palomas, La Plata, Valdevaqueros and Torre de la Peña.
San Roque-La Linea-Sotogrande: Beaches: Torreguadiaro, San Roque, Guadalnilón (virgin beach with sand dunes), El Cabrero (virgin beach with sand dunes), Torrecarboneras (virgin beach).
Sotogrande: Exclusive beach belonging to the Sotogrande complex. Good for water sports. Polo championships. It also has one of the best golf courses in the province (Valderrama).
National Parks in Cádiz: There are 5 National Parks in Cádiz province covering 200,000 hectares of forests, wetlands, beaches and salt marshes.
Doñana National Park: Avda. de Bajo de Guía en Sanlúcar de Barrameda, Tel: 956 36 07 15 - 3,400 hectares. Considered to be the most important nature reserve in Spain.
La Bahía de Cádiz National Park: Callejón Cohegen, 13, San Fernando, Tel: 956 88 24 11 - 10,000 hectares of dunes, canyons, cliffs. Beaches: Abarcs Sanlúcar de Barrameda and Trebujena.
La Breña and Marismas de Barbate National Park: Tel: 956 59 00 71 - with its 4,737 hectares this park covers an area from Barbate to Vejer. You can go cycling, hiking and bird watching here.
La Sierra de Grazalema National Park:36,000 hectares. You can do lots of mountain sports here such as hiking, horse riding, cycling and pot holing as well as activities like bird watching.
Los Alcornocales National Park: 170, 205 hectares (161,000 are in Cádiz). This is the largest area in Europe with cork oak trees. You can do lots of sports here such as hiking, abseiling, canoeing, cycling and more. The mountains here are rich in flora and fauna you can also find some caves with cave paintings dating back to the neolithic period.
Travelling to Cádiz? The following links may also be useful
Guides to nearby provinces and places of interest near Cádiz