Located in the Diagonal Avenue, one of the main avenues of Barcelona, with splendid panoramic views over the city and the sea. In a commercial and business district and well-connected to the airport and the center of the city.


The Hotel Rey Juan Carlos I - has been awarded the "Best European Event Hotel" by BI UK

Book a room here now
Hotel Rey Juan Carlos I - Business & City Resort BARCELONA (SPAIN)
(*****) Luxury hotel
Conservation

Excellent

Restaurants

Very good

Price:Quality

Good

Avda. Diagonal, 661-671
08028 Barcelona (Spain)








 
 



 









 

 






 
 


Tel.: +34 933 644 040

Fax: +34 933 644 264

hotel@hrjuancarlos.com
Accommodation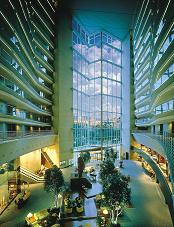 The Hotel has 412 completely equipped rooms (375 double deluxe rooms and 37 suites), including satellite TV, direct dial telephone in bedroom and bathroom, daily stocked mini-bar, individually controlled temperature, dimmers and light sensors at the head of each bed, a private safety box in the bedrooms and one central. Furthermore, the hotel offers other services such as 24-hour room service, babysitting service on request, indoor and outdoor parking facilities, heliport, daily newspaper, dry-cleaning and laundry service, rooms for handicapped persons, completely equipped Business Center, high-speed Internet connection and Wifi in the rooms. Finally, "The Royal Fitness" provides the following services: heated indoor and outdoor swimming pool, a fitness room, supervised activities, a Spa area and a Hair & Body Center.
Restaurants
The hotel includes the following three restaurants: The Garden, with a creative Mediterranean cuisine, open all year round and surrounded by the lush gardens of the hotel; the "Café Polo", with open buffet, show-kitchen and menus "à la carte"; the Restaurant Boîte-TATÍ situated next to the Catalonia Palace of Congresses, with an exclusive atmosphere.
Facilities for conferences, congresses, meetings...
The Hotel has 24 multifunctional designed meeting rooms, from 35 square meters. Most of them can be divided into 19 spaces, receive natural daylight and permit easy access for cars and any kind of equipment.
Other useful links
Travelling to Barcelona? The following links may also be useful
Guides provinces bordering with Barcelona and beautiful places in Spain nearby