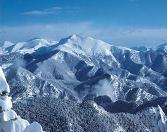 The Province of Huesca is located within the 'Comunidad Aragonesa' which is made up of three provinces, the other two being Zaragoza and Teruel. It is located between the Ebro valley and the last foothills in the Pyrenees. Huesca has a mountinous landscape with many ski slopes; it offers lots of possibilities for adventure sports. It has a wonderful natural park 'el Parque Natural de Ordesa' with exceptional scenery and is a very green province apart from one very dry area called 'los Monegros'. There are lots of rivers in Huesca and many fruit trees (above all the area known as el Bajo Cinca).
Huesca also has a large number of historical monuments, some dating as far back as prehistoric times. There are also ancient churches, aquaducts and lots of Roman and Moorish remains.

Huesca has a typical mediterranean climate for a mountinous area. The winters are cold and summers not unpleasantly hot apart from the higher areas where temperatures are more extreme both in summer and winter. It snows and rains moderately from autumn to spring. Temperatures range from 5ºc to 24ºc in the capital of the province.

Huesca is very well connected to the following cities by road :Zaragoza - the N-330; Barcelona - the Barcelona - Zaragoza motorway taking the Lérida exit and joining the N240 road to Huesca; Fraga - the A-131; Pamplona the A-132; and Madrid - the N-330 to Zaragoza and then the motorway to Madrid. It is also connected by rail to Zaragoza-Valencia-Barcelona and Huesca-Madrid. The nearest airport is in Zaragoza 71 kms away. From there you can catch a flight to Barcelona, Madrid, Frankfurt, Palma and Tenerife.


Huesca city
Huesca city was founded by the Romans in 1B.C. It was called the Independent State of Osca. In the 8th century it fell under Muslim control and remained a Muslim bastion for 4 centuries. From 1096 to 1118 Huesca became the captial of the region thanks to Pedro de Aragón. Later Zaragoza became the capital. Huesca has 49,000 inhabitants. It has two rivers running through it, the Flumen and the Isuela. The Tourist Information Office is located in the 'Plaza Luis López Allué'. Visitors to Huesca can buy a 'Tourist Card' which gives significant discounts to over 100 establishments. There is also a night time guided tour of the old quarters of the city...
Churches in Huesca
The Cathedral: (Plaza de la Catedral, Tel: 974 220 676) Gothic style with some Moorish elements. Building began in 1354. Its most outstanding feature is its alabaster altar by Damià Forment.


Iglesia de San Pedro el viejo: (Plaza de San Pedro) Roman style. It has interesting stalls dating back to 1606 and houses the tombs of the Kings of Aragon.


Basílica de San Lorenzo: (Plaza de San Lorenzo) Baroque style. Built in 1606 by public subscription. It has paintings by Vicente Berdusan and Jiusepe Martínez.


Iglesia de San Vicente: 18th century


Iglesia de Santo Domingo: Baroque style


Iglesia de San Miguel: Medieva


Iglesia de Santa María de Salas: Medieval



Monuments in Huesca
The Town Hall: This is in a Renaissance style. It was built between the 16th and 17th centuries by Miguel Altué. The most important thing to see is the 19th century painting 'La Campana de Huesca'. The Town Hall was built upon the remains of the Roman city by Quinto Sertorio. It houses the Tourist Board and the Town's archives.
El Mirador de Guara: You can see the 'Tozal de Guara', the highest mountain peak in the area at 2,077 metres above sea level from here.

Huesca University: This was the first university in the province and one of the most important between the 14th and 19th centuries. It was created in 1354 and closed in 1845.


The City Wall: Built by the Moors in the 9th century, still standing today


Diputación Provincial: Modernist style


Palacio Real Universidad: 12th century. Roman architecture. This factory has been remodelled on several occasions between the 13th and the 14th centuries.


Coso: 20th century


Porches: 20th century


Casino: 20th century


Municipal Park


Museums in Huesca
The Provincial Archeological Museum: (Plaza de la Universidad, Tel: 974-22 05 86). Modernist. This museum houses the Roman archeological remains found in the province. It also has paintings from the Gothic period to primitive Aragon art, from the 15th to 20th centuries.


El Museo Catedralicio Diocesano (the Religious Art Museum): (Plaza de la Catedral, 4): This museum has 2 rooms dedicated to Medieval religious art. It houses important works by Bierge, a wooden sculpture by Salas, 2nd century Roman busts...


Centre for Contempory Art in Aragon: This modern building was designed by Rafael Moneo. It houses the Beulas collection.


Aragón
is a little known region. Traditionally an agricultural, fruit growing area. Its diverse landscape and climate both play a part in the rich cuisine found in this part of Spain. Simple dishes made with local ingredients.
The wines from the Somontano region also deserve a mention. Very good whites, reds and rosés with their own Denominación de Origen (D.O.). Teodoro Bardají is one of the best exponents of Aragon cuisine and has created some excellent, imaginitive dishes.
Huesca Province
The province can be divided into 3 areas: The Pyrenees, Prepirineo (the area surrounding the Pyrenees) and the area known as 'los Llanos'.
The Pyrenees: Ribagorza, Alto Gallego, Sobrarbe and Jacetania
Prepirineo (the area surrounding the Pyrenees): Somontano de Barbate, Hoya de Huesca, Cinca Medio and La Litera.
Los Llanos: Monegros and Bajo Cinca.
Comarca de Jacetania: This is the birthplace of the kingdom of Aragon. It is a high mountinous area located within the Pyrenees.

Jaca: The capital of this area. Not to be missed: San Pedro Cathedral (11th century), Iglesia del Carmen, Iglesia de Santiago and las Benedictinas, the fortress and the 16th century Clock Tower.

San Juan de la Peña Monastery: Dates back to the 9th century. It houses the Royal tombs of the kings of Aragon. Interesting cloister.

San Pedro de Sirena Monastery

Santa Cruz de la Serós: There are two interesting churches: Iglesia de Santa María and San Capracio.

Castiello de Jaca

El Grado: The Grado reservoir and the Torreciudad sanctury were built in memory of José María Escrivá de Balaguer, the founder of Opus Dei.

Enate: Very good wines made here.

Santa María de Iguacel

Valle de Ansó: This is an espeially pretty valley. Not to be missed: A 16th century Gothic church, which houses a museum of regional costumes.

Valle de Hecho: A very beautiful valley. A festival of modern sculpture takes place in this small village every year. The whole village is decorated with the winning sculptures from previous festivals. Very picturesque.
Siresa: This is a village in Hecho valley. Not to be missed: 11th century Iglesia de San Pedro.



Alto Gállego: High mountinous area located in the Pyrenees. Megalithic remains, Roman roads, ski slopes, adventure sports...



Ruta de Serrablo: Roman churches.

Sabiñánigo: Museo de Artes Populares del Serralbo (Tradtional Art Museum).

Larrés: Museo del Dibujo.

Biescas: Dolmen de Santa Elena and the Santa Elena chapel.

Piedrahita de Jaca: Parque de Lacuniacha (safari park).

Valle del Tena:

Ribagorza: Located in the peaks of the Pyrenees, there are valleys and snow all year round, lots of historical monuments, churches, bridges, castles, chapels, monasteries and more....Adventure sports: rafting, hiking, climbing canoeing, cycling, fishing, hunting and horse riding...


Arén: Prehistoric remains
La Puebla de Castro: Remains of ancient Roman city of Labitolosa
La Roda de Isábena: Roman Cathedral, the smallest in Spain built in 1067. Not to be missed: the 12th century cloister and the dome with 12th century frescos.

Benasque: The Condes de Ribagorza renaissance palace and Iglesia de Santa María Mayor (13th century). Maladeta mountain range with 2 peaks Aneto and el Posets, located in the Posets-Madaleta Natural Park (since 1993), there are 13 glaciers, 95 lakes and a lot of vegetation

Graus: La Peña Monastery and the Plaza Porticada.

Cerler. Ski resort

Fantova: Medieval buildings and monuments.

Perarrúa:Medieval buildings and monuments.

Montañana: Historical monuments, this area has been declared 'Patrimonio Artístico' (of special artistic interest).



Sobrarbe: Located in the Pyrenees, this area has a lot of prehistoric remains. Beautiful valleys and scenery.



Ordesa National Park: Prehistoric remains, the 'Perdido' mountain, 4 glacial canyons (Garganta de Añisclo, de Pineta, Esccuain and Valle de Ordesa). There is a 70 metre precipice called the 'Cola de Caballo' (the horse's tail), Torla village. The park has a lot of animals and plants typical to the Pyrenees: foxes, wild boars, mountain goats, eagles...and edelweiss, wild orchids...

Rivers: The Vero, Ribagorza and Alcanadre: You can go rafting or canoeing...

Aínsa and Voltañá: Signs of ancient civilisations can be seen in its houses and streets.
Valle de Canfranc: Ski resort Candanchú.

Tella: Megalithic remains.

La Sierra and The Guara canyons: Prehistoric remians



Somontano de Barbate: Located between the high peaks of the Pyrenees and the flat area 'los llanos'. A wine producing area with lots of tourist facilities. Prehistoric remains. Adventure sports.

Barbastro: This is the capital of the area. It has a Cathedral - Santa María, 16th century and a Religious museum. The house where José María Escrivá de Balaguer was born is also here. Argensola Palace, and the 'Museo de los Mártires Claretianos' (Martyr's museum). The Somontano wine cellars (D.O.)

Alquezar: Prehistoric remains. Mountains and canyons.

Río Vero and the surrounding area: Now an official Cultural Park due to cave paintings and archeological remains, Moorish buildings and fortresses, Roman and Baroque chapels.

Bierge: Iglesia de San Andrés de Nasarre.

Abiego: Iglesia de San Agustín.



Hoya de Huesca:



Loarre Castle: Located 30 Kms from Ayerbe, 30 Kms from Huesca. It was built in the 11th century upon a former Roman castle under the orders of Sancho I de Aragón. Interesting murals and Roman church.

Montearagón Castle: This castle occupies an important place in Aragon's history.

Bolea: Santa María Collegiate , 16th century. Interesting altar.

San Martín de Val d'Onsera: Marvellous village.

Eyerbe: It has an interesting clock tower.

Mallos de Siglos and Agüeros: These villages have been dug out from the moutainside.



Cinca Medio: The Cinca river passes through this agricultural area. There are historic monuments, chapels, castles, palaces and renaissance and medieval monasteries.



Monzón: Monzón castle where Jaime I lived. Since 1143 it has belonged to the 'Orden del Temple'. Also Santa María Cathedral del Romeral.

Fonz: Interesting Townhall which was once the residence of the Bishops of Lérida. Its old quarters is full of mansions typical to the area.

Alcolea

Almunia de San Juan



La Litera: Located on the border with Cataluña between the Pyrenees and the flat area 'los llanos'. An important agricultural area with several rivers running through it (the Cinca, Ribera Ribagorzana and the Aragón and Cataluña canal).



Binefar: Iglesia de San Pedro, Gothic, 16th century. Famous for it chef Teodoro Bardají, one of the best for traditional Aragonese cuisine.
Tamarite

Peralta de Calasanz

Esplús

Camporrels

Baldellou



Monegros : A barren, dry area. Interesting rock formations made by erosion over the centuries.



Los Monearos: Lots of salt lakes. 'La Laguna de Sariñena': This is a natural reserve full of wild plants and animals such as hares, rabbits, wild boars...

Villanueva de Sijena: Santa María Monastery (a National Monument).

Lanaja:De las Fuentes Charterhouse, 18th century. It houses paintings by Manuel Bayeu.

Tardienta: Iglesia de Santiago el mayor. You can go for a camel ride in the aerodrome.

Castejón de Monearos: Castle

Sangarrén: A fortress.

Leciñena: La Virgen de Magallón.



Bajo Cinca: A lot of historic remains and ancient settlements. The Cinca, Segre and Ebro rivers pass through this agricultural area (above all a fruit growing area)



Fraga: Villa Fortunatus, The first Roman settlement in Spain. Iglesias de San Miguel, de San Pedro. Montcada Palace.

Belver de Cinca: la Iglesia de Nuestra Sra.de la Asunción

Ontiñena: Iglesia de Santa María la mayor.

Ballovar: San Roque chapel.

Osso de Cinca: Iglesia de Santa Margarita and castle

Maquinenza: Acuabarreig, a natural reserve for birds. International rowing competitions take place in its reservoir.

Ribarroja: Ribarroja reservoir.
Travelling to Huesca? The following links may also be useful
Guides provinces bordering with Huesca and beautiful places in Spain nearby