See also: Travel Guide to the Province of Cuenca
Declared a World Heritage Site by UNESCO, Cuenca spreads out below the ruins of the Arab castle, the former fortress of Kunka. The modern area of this small city lies below on the Júcar plain.

The old part of Cuenca is surrounded on three sides by a deep gorge carved out by two rivers, the Júcar and the Huécar. Cuenca is famous for its 15th Century "hanging houses" (casas colgadas), that appear to be hanging on to the cliffs edge. One of these houses is the Museum of Spanish Abstract Art, and is one of the finest of its kind.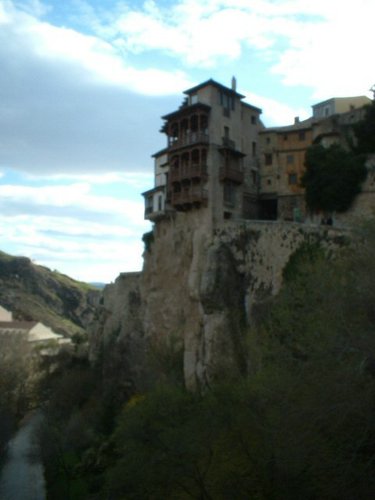 Cuenca's monumental historic quarter lies beside rocky walls in the heart of the Cuenca mountains with narrow, medieval cobbled streets, plazas, arches, fountains and impressive historical buildings. The center of the old town is the Plaza Mayor, presided over by a magnificent Gothic cathedral.
To the east of Cuenca lies the Serranía de Cuenca, with scenic valleys, gorges, and waterfalls and an impressive group of rock formations known as 'The Enchanted City' (Ciudad Encantada). Cuenca is a wine-making region, and you might like to visit one of its many bodegas to buy some cheap, and often excellent, wine.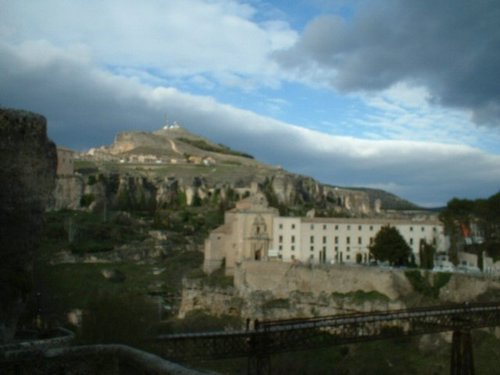 To get to Cuenca, take the N-III from Madrid, and take the exit at Tarancón. If coming from Valencia, take the Motilla del Palancar exit.
Treat yourselves to a night in the Parador in Cuenca, the Sixteenth Century convent of San Pablo. The former convent is opposite the old town and the famous 'Casas Colgadas'. It occupies a privileged position in the Hoz del Huécar gorge, and has an excellent restaurant which serves local dishes and wines.