Alcalá del Júcar is located to the Northeast of the province of Albacete, where the River Júcar River leaves Castilla-La Mancha. Before reaching Alcalá del Júcar the river runs through the Western part of La Mancha, an area known as La Manchuela, with a flat non descript rural landscape.

However on arriving in the area near Alcalá del Júcar, the scenery becomes quite rocky. This area is dominated by shrubs, grass and pine trees and its wildlife includes foxes, rabbits and birds.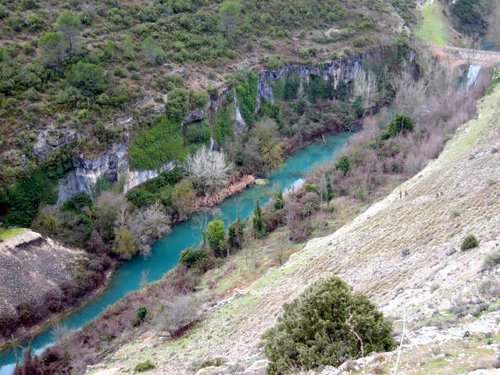 Alcalá del Júcar
The population of Alcalá del Júcar is quite dispersed due to its division into 6 areas: Alcalá - 706 inhabitants; Las Eras - 325 inhabitants; Casas del Cerro - 238 inhabitants; La Gila - 73 inhabitants; Zulema - 75 habitantes and Tolosa with only 27 inhabitants
The inhabitants work on the land, mostly farming cereals such as wheat and barley. There are also some olive groves and fruit orchards. The few allotments that exist near the river are mainly for personal use rather than commercial activities.
The village is a narrow peninsula surrounded by the Júcar river. The hill that overlooks the river has an Arabic fortress on top with some very high towers despite the fact that nature has already given it a good defensive positon.
You can see the different layers of rock on the slopes of the river bank. The houses in Alcalá are quite curious, behind the front door you'll find a large cave. The advantage they have is that they stay cool in the summer and warm during the winter.
There are other caves that were once used as shelters, the most famous being Agraden which according to local folklore is named after the Arabic king who once occupied it. Other historical remains include polished axes found in Alcozarejo and the TardoRoman cemetry.
Alcalá del Júcar has an ancient church, San Andrés, built between the 16th and 18th centuries next to the Arabic fortress and the main square, all that remain following a fire in 1833 during the first Carlist war. The 18th century bridge crossing the Júcar river is also interesting.

Fiestas en Alcalá del Júcar:
The village holds its annual fiestas in honour of San Lorenzo. During the fiestas between the 8th and 15th August there is a procession to the San Lorenz hermitage.

Hotels near Alcalá del Júcar: Parador of Albacete, Parador of Alarcón, Parador of Cuenca.
How to get to Alcalá del Júcar