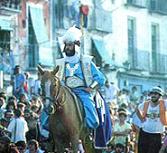 Alcoy is located in the mountains to the north of Alicante in an area known as the 'Comtat' characterised by its mountain ranges, some with almost vertical sides and interlocking valleys.
Alcoy is situated in one of these valleys in a fertile agricultural area in contrast with other drier areas in the province, providing a refreshing change in scenery from the villages and towns on the Levante coast.
Alcoy is in the middle of the Mariola, Biscoi, Marrascal, els Plans, la Serreta and la Font Roja mountain ranges (very popular with day trippers who flock there to have picnics and barbecues at weekends).
The town might have remained a small agricultural mountain village if it hadn't been for the industrial revolution. The growth of its textile industry converted Alcoy into the most important town in the area. Fabric is still produced in Alcoy today, as well as paper, furniture, ceramics and shoes. The growth of rural tourism is also important to the town and it remains an important agricultural area as well.


Monuments and interesting places in Alcoy
Iglesia de Santa María 18th century church
Iglesia de San Jorge 20th century church
Santo Sepulcro Monastery
Plaza de España
Plaza Mayor
Camilo Visedo Archeological Museum - Interesting exhibition of Iberian, Roman and Moorish pieces
Fiestas del Casal Sant Jordí Museum, San Miguel, 62 - this is a curious museum with displays of costumes, programmes, weapons and other unusual articles from the famous 'Moros and Cristianos' fiestas in Alcoy.
El Puente de María Cristina, an impressive bridge built in 1837 over the Barchell river.
The Canalejas Viaduct, built in 1907, 54 metres high
La Font Roja - Natural park and one of the last examples of the original Mediterranean forest. It's better to visit during the week or in low season as it gets too busy at weekends.
Safari de Aitana - A safari park covering a large area just a few kilometres from Alcoy. Friendly helpful staff happy to offer interesting information about all kind of wild animals roaming around this large and very attractive safari park.


Fiestas in Alcoy: Alcoy is famous for its impressive 'Moors y Christians' fiestas which are among the oldest and most spectacular in Spain (Victor has written to tell us that while the first Moors and Christian fiestas in Alcoy were held in 1668, others were organized in the previous century in Orihuela (1579), Valencia (1586) and Caudete (1588). Thanks Victor!). The Moros and Cristianos in Alcoy attract thousands of visitors every year. They take place during the last week of April to commemorate the reconquest and every year Sant Jordi appears in a 'castle' which is set up in the Plaza de España. Each day during the fiestas, long processions of different peñas of Moors and Christians stroll proudly along the main streets of Alcoy in an impressive show of colour, pomp and music. People from Alcoy spend thousands of euros on the costumes.

Accommodation in Altea: Hotel Hotel AC Ciutat D'Alcoi****: This hotel is in an industrial building constructed at the beginning of the 20th century. It has been totally renovated. 85 rooms, 5 minutes from the centre of Alcoy, in a commercial area. It has 4 business meeting rooms and a reception room and a good restaurant.
See photos and book this hotel online.

For more reviews of hotels near Alcoy see Hotels in Alicante