Andorra is located in the middle of the Pyrenees between Spain and France. It is one of the most mountinous areas in Europe as well as being one of the smallest countries covering just 468 km2.
The highest point in Andorra is 'el pico de Coma Pedrosa', which is 2942 metres above sea level and the lowest point is on the border with Catalunya at 838 metres above sea level. Andorra is characterized by its mountinous landscape.
The climate
Andorra has a typical climate for a mountinous area - very cold winters, with a lot of snow and cool summers with pleasant temperatures.
The population
It has a population of approximately 68000 inhabitants, although this figure goes up considerably in high season. Only 36% of the population is made up of people with Andorran nationality the rest being 37% Spanish, 13% Portuguese and 6% French as well as other nationalities. The average age of the population is just 37 years old partly due to the fact that Andorra's economy is based on Tourism and commerce.
The Official language
This is Catalan although Castellano and French are also used.
Parroquias
The country is divided into 7 towns known as 'parroquias':
Andorra la Vella; This is the Capital of Andorra, with 20,724 inhabitants
Escaldes; 15,528 inhabitants
Canillo; 3,205 inhabitants
La Massana; 6,660 inhabitants
Ordino; 2,485 inhabitants
Sant Juliá de Loria; 7,785 inhabitants
Encamp; 10,772 inhabitants

Andorra has become a popular tourist destination above all famous its skiing resorts - it has the highest number of ski slopes in the whole of the pyrenees with over 200kms.

It is also a popular destination for rural tourism given its beautiful landscapes. It has beautiful places to relax in and wonderful scenery as well as offering the possiblilty of all doing all types of sports. Given that goods are all tax free in Andorra it is also a popular place to stop for those looking for bargains even if for just a few hours when driving from France to Spain.
Andorra has some dazzling villages too. There are lots of shops and hotels and a large number of historical monuments, some dating as far back as Roman times. The Andorrans welcome visitors and are very good hosts. Tourists who visit Andorra tend to be either very sporty or those interested in nature.
Given the possibility of buying tax free goods, Andorra has a large number of shops catering for this. The most popular tax free goods are perfume, tabacco and electronic items...The road which joins Andorra la Vella and Escaldes, the two most important towns in Andorra, is lined with hundreds of shops. However, it is one of the least attractive areas in this small country.
Places to visit in Andorra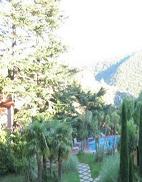 Caldea, in Escaldes-Engordany. This is one of the biggest thermal spas in Europe set in a futuristic building. A fantastic place to go to relax.
Castillo de Sant Vicenç, 2 kms from Andorra la Vella. You get some wonderful views here.
Santa Coloma Church, in Santa Coloma. This is an ancient church with a Roman style circular tower.
La Geltrú neighbourhood. This is a medieval area from where the town developed and grew.
Funicular, 6 kms from Canillo, for those daring enough to go for a balloon ride.
San Clemente Church, in Pal. Roman style it has an interesting bell tower.
Palacio de hielo de Andorra (ice rink)
Museo de la Miniatura. A curious museum featuring the best microminiatures in the world. Exhibits can only be seen through a microscope.


Fiestas in Andorra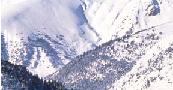 Sant Jaume, 26th July (in Escaldes)
Diada de Meritxell, 8th September
Constitucion day in Andorra, 14th March
Fiesta del Canillo, 13th June (in el Canillo)
Fiesta Mayor de El Tarter, 29th June
San Corneli, 16th and 17th September.
Hotels in Andorra - visit our page on the best hotels in Andorra with online booking