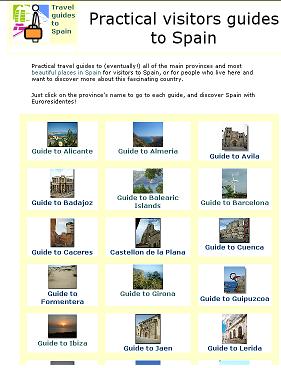 This new section is for people planning a visit to Spain or for residents here who want to find out the best places to visit, what to do and see and where to stay and eat in the area where they live or further afield.
The guide is divided into provinces. Each province contains a detailed description of the capital city (history, local gastronomy, sights, hotels, restaurants) and information about other places of interest in the province (towns, villages, natural parks, beaches, hotels, restaurants, photos…). The guides are intended to be a practical introduction to the different areas within Spain. So far visitors guides to the following provinces are available:
Alicante, Almeria, Avila, Balearic Islands, Barcelona, Badajoz, Caceres, Castellon, Cuenca, Formentera, Girona, Guipuzcoa, Ibiza, Jaen, Lerida, Madrid, Malaga, Mallorca, Menorca, Murcia, Salamanca, Tarragona, Teruel, Toledo, Valencia, Zamora.

The guides are based on the personal experience of ourselves and our collaborators, and anyone who would like to expand on the information or recommend a restaurant or hotel is invited to do so by sending us an email to euroresi@euroresidentes.com.