Hidden within the impressive canyons in 'Las Hoces del Río Duratón' National Park, Sepúlveda is one of the prettiest villages in the province of Segovia with just one thousand inhabitants.

The village has narrow streets, restaurants, local crafts shops and museum.
Easily accessible from Segovia, Madrid and Valladolid, in an extraordinarily beautiful setting, Sepúlveda is an ideal location to spend a day or even a weekend. There are a number of accommodation possibilities from small hotels to rural houses (casas rurales). The village still retains its authenticity and so far remains unaffected by tourism.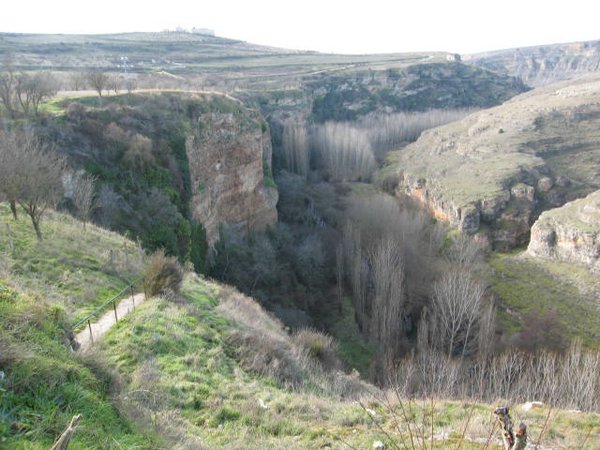 Sepúlveda is home to the largest colony of vultures in Europe. Almost 600 pairs of these birds have found a home in its rocky canyons which provide an ideal habitat for them to build their nests in. The birds form part of the attractive panoramic views and can be seen flying over the village.


Monuments and interesting places in Sepúlveda
Centro de Interpretación de las Hoces del Río Duratón: Located in the old Roman church called Iglesia Santiago. This centre has an excellent exhibition, appealing to both adults and children, on various aspects of the national park. The renovation work that has been carried out on the church in order to adapt it for use as an exhibition centre has been very tastefully done by retaining the Roman arches and beauty of the original building. The exhibition has a webcam and a screen where you can see close ups of the vultures' nests. If you are lucky you can even see eggs hatch if you visit from December-February. The staff at the centre area very helpful and can offer advice on routes and itineraries to follow in the Park
Iglesia de la Virgen de la Peña: This church dates back to the 12th century and is located in the highest part of the village offering panoramic views of the canyons. There is a park next to the church.
Iglesia del Salvador: 11th century church with a Segovian facade.
Iglesia de los Santos Justo y Pastor: This church has recently been repaired.
The National Park of the River Duratón: This is 13 kms from Sepúlveda and is made up of 'las hoces' - canyons some measuring more than 70 metres which follow the river for 25 kms. This national park takes part in the LIFE scheme run by the EU aimed at conserving and promoting natural areas of special interest.


Fiestas in Sepúlveda: The village fiestas take place on the 29th and 30th September also the last weekend of August they have bull running and bull fights very typical to this part of Spain.

Accommodation in Sepúlveda: There are various rural houses in the vicinity as well as a pretty hotel in the old part with a restaurant, internet, 21 double bedrooms and one suite with a Jacuzzi - Hotel Vado del Duratón***; Hostal Hernanz "El Panadero", is also in the old part and Posada del Duratón (a hostal) in Sebúlcor just 17 kms away, in the middle of 'Las Hoces' natural Park.