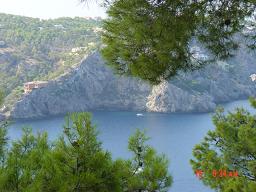 Ciutadella is located 45 kms from Mahón. It has a population of 24,000. It used to be the capital of Menorca and still has a lot of important historical buildings and an interesting cultural heritage.
It is a very pretty town. You can still see remains from the Arabic occupation. The reconquest of Ciutadella took place towards the end of the 13th century under Alfonso III. The city was fortified and under his reign palaces, churches and convents were built within the city walls, many of which are still standing today. You could say that Ciutadella is like two towns in one: it has an old part, much in a Gothic style, within the city walls as well as a new, modern part popular with tourists.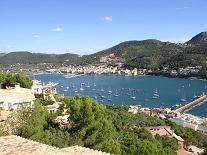 There are some incredible small coves dotted along this part of the Menorcan coast. In fact some of Menorca's best beaches are very nearby: Arenal de Son Saura, Algaiarens, Cala del Pilar, La Vall, Cala Morell, Cala Blanca, Cala Bosch. There is also an intersting network of caves near Ciutadella.


Monuments and interesting places in Ciutadella:
Menorca Cathedral: 14th century, Gothic style, built upon the remains of a mosque
Des Bastió de sa Font Municipal Museum - This museum has some interesting prehistoric artefacts
The Old Part: Arabic and medieval remains, within what was once the walled city
La Plaza del Borne
Iglesia de Roser: Baroque-style
Plaza de Alfonso III
Plaza de la Catedral
The Town Hall: A palace which belonged to Alfonso III
Museo Arquelógico de Ciutadella (Archeological Museum)
Canteras de s'Hostal: Used as an amphitheatre
Torre Saura: This is an impressive Neoclassical palace

Fiestas in Ciutadella: The San Juan fiestas held in Ciutadella (23rd and 24th June) are famous throughout Spain. They are more than 600 years old and include a procession to 'la Ermita del Santo' (a small chapel). One of the fiesta's main events is a procession carrying a red flag with the blue cross of Malta on it. There are other fiestas on 17th January, Fiestas San Antonio Abad, whose origin lies in the reconquest of the city.
Shopping in Ciutadella de Menorca: Typical products include shoes, accessories, cheese, spicy sausage...
Accommodation in Ciutadella
Menorca Sea Club**** - A modern hotel complex consisting of apartments with breakfast service, a pizzeria, a supermarket, parking facilities, a laundry, 24 hour reception...
Viva Menorca**** - This is a luxury hotel on Cala Blanca, one of the most attractive beaches in Ciutadella. Swimming pools, a solarium and 4000 m2 of beautiful gardens.
Grupotel Macarrella**** - This is on another of Ciutadella's beaches - Cala'n Bosh. A comfortable, relaxing hotel with pleasant rooms.