The province of Zaragoza is part of the Aragonese Autonomous Community. It has borders with Huesca to the north, Teruel to the south, Catalonia to the east and Pamplona and La Rioja to the west. It is located in the north of Spain 200 metres above sea level. The landscape here is flat and quite arid except for the river valleys.
Traditionally an agricultural province, the main produce grown here are: cereals such as wheat and corn, beetroot and fruit. There are lots of vineyards too. In fact most industry in this province is related in some way or other to agriculture.

Zaragoza has both a mediterranean and continental climate. It is very hot in the summer and very cold in winter. One notable feature is the 'cierzo' wind that blows principally in the Ebro valley.


The Iberos, the Romans, the Arabs and Christians all occupied these territories at some point in history, influencing and shaping this province's architectural, cultural and artistic heritage. Above all the Mudejar culture had a great influence on this province. There are several routes to follow:
The Camino de Santiago Route: This is the part of the Camino which goes through Aragon. It is not a well used route because of it is quite difficult to follow. It passes through the northern part of the province from Huesca to Navarra. It passes through: Sangüesa, Castillo de Javier, Urdués de Lerda, SOS del Rey Católico, Uncastillo, Recuesta, Artieda, Mianos, Martés, Puente La Reina.

The Mudéjar Route: This begins in Zaragoza, the capital of the province, (the Mudejar wall, the Alfajería Palace, San Pablo, Santa María Magdalena, San Miguel de los Navarros and San Gil churches all have Mudejar towers ); Muel (Muwala árabe); Longares(church tower); Paniza (Nuestra Señora de los Angeles church tower); Daroca (Arabic castle); Calatayud ( Ayyub castle the Santa María Collegiate cloisters, San Pedro de los Franceses, San Andrés, Nuestra Señora de la Peña, Collegiate tomb); Magallón (church); Borja (Casa de las Conchas); Alberite de San Juan (various monuments) and Tarazona (episcopal city, episcopal palace, the ancient Cinto neighbourhood - the former Jewish quarter, la Magdalena church).
The Romanesque Route: This covers the whole province, you can visit castles, monasteries, convents and churches all in a Romanesque style built in the middle ages.
THE CITY OF ZARAGOZA
Zaragoza was founded by the Romans in 24 B.C. upon the ancient city of Salduie, which used to be an Ibero village. The Romans baptized it Caesaraugusta, in honour of César Augusto and this is where the name Zaragoza comes from. It used to be a fortified city under the Romans.

Later in 714, the city was taken over by the Muslims and was converted into the capital of the high area of Al-Andalus.
In 1018 it became the capital of the first Kingdom of Taifas. In 1118 it was conquered by King Alfonso I of Aragon and converted to Christianity. From that moment onwards Zaragoza became the capital of the Kingdom of Aragon.

Today Zaragoza has a population of 660,895 inhabitants. It is a touristic city and also a business centre with many conferences taking place there (University, Environmental, Educative, Technological...). It also has a very attractive cultural life which includes theatres, auditoriums and childrens' theatre...among other things.

The city's infrastructure and facilities increase year on year. The Official Tourism Office organizes visits to the city there is a 'Megabus' especially for children, the Talking Tours, guided tours in English, French and Italian, there is a nightbus tour as well as a tour which dramatizes many important historical events. There are 7 Tourist Information Offices dotted throughout the city. For further information call: 902 20 12 12.


Churches in Zaragoza: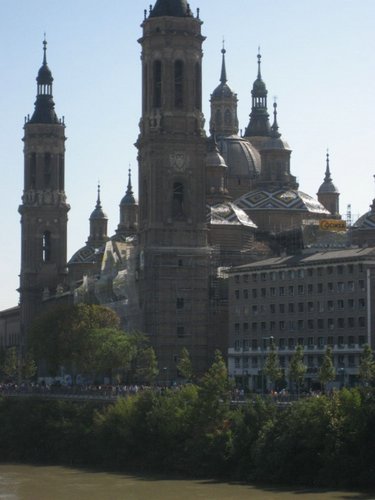 Nuestra Señora del Pilar Basilica : Plaza del Pilar. This imposing building is a place of pilgrimage. It was built in the 16th century in a Baroque style. It has undergone alterations in the 17th and 20th centuries. Things to look out for are: the altarpiece by Damiá Forment; frescos and paintings by Goya and Bayeu; the ornate stone pillar surrounded by flowers and silver with a statue of the virgin Mary on top in the Santa chapel; 11 tiled domes; the San Antonio de Padua chapel. Over the centuries various architects contributed to the design of the building: Felipe Sanchez, Herrera del Mozo and Ventura Rodríguez.


Salvador (La Seo) Cathedral : Plaza de la Seo. This is a mixture of Romanesque, Gothic, Mudejar, Renaissance, Baroque and Neoclassic styles. 12th century but later modified in the 18th century. It was built upon what used to be the Roman forum and an important ancient mosque. It was the 1st Catholic Cathedral in the city. Things to look out for: the 15th century Gothic altarpiece by Pere Johan and Ans Piet d'Anso.


Santa Maria Magdalena: Plaza de la Magdalena. Tel: 976 39 97 45. 14th century Mudejar, modified in the 17th and 18th centuries. Things to look out for: the tower and the apse; the altarpiece and works by José Ramírez de Arellano and Damiá Forment.


The Santa Engracia Crypt: The entrance is on Calle Castellanos. It is located within the Santa Engracia church. It dates back to the 4th century A.D. during the Roman occupation of the city. The crypt and sarcophagus are early Christian.


Santa Engracia Monastery: Plaza Santa Engracia, 15th -16th centuries Renaissance. It was built upon a former Christian - Roman cemetery. This is where the 2 marble sarcophagus which are now in show in the crypt were discovered. All that remains of the cemetery is the entrance which was built by Juan II de Aragón and his son Fernando el Católico.


San Pablo: c/ San Pablo, 42. Mudejar, 14th, 15th and 19th centuries. Things to look out for: the tower from both inside the church and outside; the central nave, the Tramontana door, the Santo Cristo in which the image of the Virgen del Santo Populo is painted; the 1515 altarpiece by Damiá Forment.


Santa Isabel de Portugal or San Cayetano: Plaza de la Justicia, 1. Baroque, built in the 17th century in memory of Isabel de Portugal. It has been declared a cultural monument. Things to look out for: the altarpiece by Ramírez de Arellano; the interior is decorated in a churrigueresco style, the only one in this style in the city.


San Gil Abad: c/ Don Jaime, 15. Mudejar Aragonese, 14th century but altered in the 18th century. Things to look out for: the Mudejar tower, the vestry (1776) decorated with paintings and frescos by Ramón and Manuel Bayeu.


San Miguel de los Navarros; c/ San Miguel, 52. Romanesque with Mudejar alterations, 14th - 17th centuries. Things to look out for the tower and apse; the Renaissance altarpiece by Damiá Forment.


Important Buildings in Zaragoza: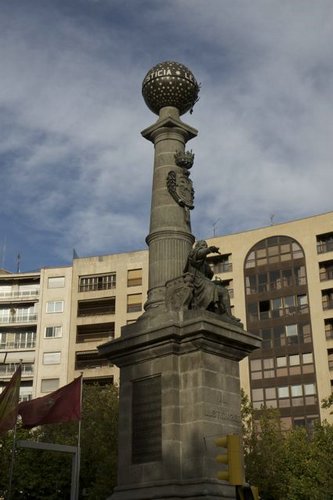 Roman Walls: Avenida Cesar Augusto. 2nd -3rd centuries A.D. There is a fortified tower followed by walls and a statue of César Augusto. These were used a lot to defend the city during the Middle Ages.


The Jewish Baths: c/ Coso, 126-132. Mudejar, 13th century. They were located opposite the 'Castillo de los Judíos' (The Jewish Castle) and the Jewish Quarter, now only a rectangular room remains with a simple arched roof.


The Déan Arch: c/ del Déan, 5. This is a mixture of Gothic, Mudejar and Renaissance styles. It is an arched passage that links the Cathedral to the Dean's house.


The Post Office: Paseo de la Independencia, 33. This was built in 1915 by Antonio Rubio, in a Neomudejar style.


The Town Hall: Plaza del Pilar, 18, Tel: 976 72 11 00. Built in 1965 in a Renaissance style, it is decorated with sculptures by Pablo Serrano.


The Market: Plaza del Pilar, Tel: 976 39 72 39. It dates back to 1551 when the building, by Juan de Sariñena, was finished. It is a mixture of Gothic and Plateresque styles. Things to look out for: the facade with its leaded glass windows and the interior with its Aragonese columns and arched roof. The building is a cultural monument. Nowadays it is used as an exhibition centre by the town hall.


The Episcopal Palace: Plaza de la Seo, 5. Neoclassic, completed in 1807.


The Aljafería Palace: c/ Diputados. Mudejar, Hispanomuslim dating back to the 11th and 12th centuries (although it has undergone multiple alterations since then). It was once used as a residence by the 'Reyes Católicos' (the Catholic Kings and Queens) and also as a prison during the Inquisition. Things to look out for: the walls, the San Martín patio, the Trovador fortified tower, the Santa Isabel patio, the Oratory, the Golden Room and the 'Reyes Católicos' palace.


Lanuza Market: It has interesting Art Nouveau forged steel patterns.


The Fortea Fortified Tower: c/ Torrenueva, 25. Mudejar with a mixture of other styles. 15th century. It now belongs to the town hall.


La Zuda Fortified Tower: c/ Glorieta Pío XII, Mudejar a mixture of other styles, 10th - 20th centuries (it has been continuously altered). It is now used as a Tourist Information Centre.


Tarín House: Plaza de Santa Cruz, 19. Neoclassic, 18th century. This is the former headquarters of the Imperial Aragon Canal. Today it is used by the 'Cachirulo' Aragonese Society.


The Auditorium and Congress Centre: c/ Eduardo Ibarra, Tel: 976 72 13 00. This was built in 1994 by Manuel Perez Latorre. It is a contemporary building with modern facilities. Concerts, conferences, conventions, exhibitions and other cultural events all take place here.


The Central Market: Avenida César Augusto. Built by Felix Navarro and modernized by Felix Magdalena in 1903. It is located in the same place as the market place dating back to the 13th century.


Museums in Zaragoza:
The Caesaraugusta Public Baths Museum: c/ San Juan and San Pedro, 1st century A.D. You can see pools with an arched ceilings, a hot spring and various statues...


The Caesaraugusta Forum Museum: Plaza de la Seo, 2. 1st century A.D. It consisted of the Augusto Market and the Tiberió Forum. It used to be the central meeting point in the city. You can see the Basilica, the temple, the Roman Parliament, shops, statues and triumphal arches.


The Caesaraugusta Theatre Museum: c/San Jorge, 12 Roman. 1st century A.D. Columns, sculptures, paving stones and cornices have been preserved.


Camón Aznar Museum: c/ Espoz y Mina, 23, Tel: 976 39 73 28. It holds a collection of drawings by Goya, as well as other works by eminent artists from different periods.


Zaragoza Museum: Plaza de los Sitios, 5, Tel: 976 22 21 81. It houses paintings and archeological finds.


Pablo Gargallo Museum: Plaza San Felipe, 3, Tel: 976 399 20 58. It houses paintings by this well known Galician artist.


Art Nouveau in Zaragoza - there are 4 buildings which stand out, all of which are cultural monuments.:
Juncosa House: Paseo de Sagasta, 11. Designed and built by José de Yarza Echenique. This house has been perfectly perserved, including all the original furniture and interior decorations. In 1983 it became a national monument.


Molins House: c/ Alfonso, 2. By Fernando Ayaza, built in 1902. Perfectly preserved.


Retuerta House: Paseo de Sagasti 13. By Juan Francisco Gómez Pulido built in 1904. Perfectly preserved. It also became a national monument in 1983.


Mercantil House: c/ Coso 9. Built in 1912 by Francisco Albiña. Perfectly preserved. In the 1st half of the 20th century it used to be a place where artists, intellectuals, writers and journalists met up for discussions.


The Band Stand: This is located in the Primo de Rivera Park. Built in 1908 by the Martínez Ubago brothers.


Gastronomy in Zaragoza
Aragon is a diverse region whose landscape is rural and mountinous. It has both a Mediterranean and Continental climate which both contribute to its rich traditional cuisine. Aragon is an agricultural province and local produce has played an important part in recipes from this part of the Peninsula. Many of the dishes from here are simple but delicious.

The wines from this region also stand out especially wine from Somontano. You can find some excellent whites, rosés and reds with D.O. Somontano.
Teodoro Bardají is one of the best exponents of Aragonese Cuisine. He pushes the boundaries inventing and experimenting with traditional recipes using modern techniques.


Restaurante Gayarre (8): (on the airport road Tel: 976 34 43 86) Good regional cuisine, seasonal dishes on the menu. ; Restaurante La Rinconada de Lorenzo (7): (c/ La Salle 3, Tel: 976 55 51 08). Traditional dishes; Restaurante El Cachirulo (8): (on the Logroño road, km 1.5, Tel: 976 460 146): This is perhaps one of the most emblematic restaurants in the city. Both traditional and innovative; Restaurante La Rebotica (7) (c/San José 3, in Cariñena, Tel: 976 62 06 56): This restaurant is located in a former Chemist's. Local cuisine, wine is one of the main ingredients used to elaborate many of the dishes on the menu; Restaurante Reyes de Aragón this is the restaurant in the Monasterio de Piedra Hotel in Nuévalos (Tel: 976 84 90 11): Regional cuisine specializing in trout; Restaurante Las Brujas de Becquer (c/ Teresa Cajal 30 in Tarazona Tel: 976 64 04 00): Set in a beautiful building, excellent cuisine, a mixture of traditional and innovative dishes on the menu; Asador El Leñador (7) (c/Fernando El Católico 2, Tel: 948-88 83 23): Regional dishes and grilled meats;; Restaurante La Bóveda del Mercado, 4, in Borja, Tel: 976 86 82 51): Regional cuisine with Jewish and Arabic influences, very good; Restaurante El Mirador (8.5) (La Misericordia Sanctuary in Borja, Tel: 976 85 24 48) Chef's specialities and seasonal dishes using local produce.

Travelling to Zaragoza? The following links may also be useful
Guides provinces bordering with Zaragoza and beautiful places in Spain nearby