The Prado museum in Madrid is Spain's largest and most famous art museum. You need at least a day to do this very impressive art gallery justice. Visitors will find art works from all the great Spanish artists here. Set in one of Madrid's most attractive districts in the wide, leafy Paseo del Prado, the museum is a magnificent building. The Prado also has a specialised library which researchers can use free of charge. The library has 45.196 volumes, and around 66 magazine titles and over 50 studying points. Loans are not permitted, and researchers who want to use this facility are required to send a letter of application prior to their visit, stating the dates they would like to use the library, why they wish to do so and the subject of their research.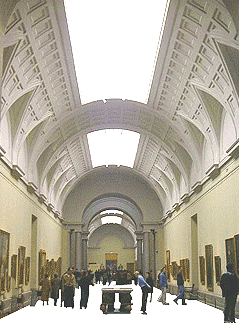 Useful information:
Tel.: 91 330 28 00
Fax.: 91 330 28 56
Opening hours:
Tuesday to Sunday: 9.00 -19.00 h
24th, 31st December and 6th January: 9.00 - 14.00 h
Closed on Mondays, 1st January, Good Friday, 1st May and 25th December
Transport:
Metro: Banco de España y Atocha stations
Buses: 9, 10, 14, 19, 27, 34, 37 y 45
Nearest rail station: Atocha (walking distance)
Price: 6 € full-price; 3 € reduced price. Children (under 18 yrs), adults over 65 and unemployed enter free of charge. 
On Sundays, and on 18th May, 12th October and 6th December, entrance is free for all visitors.
Website: Museo El Prado, (English version here).