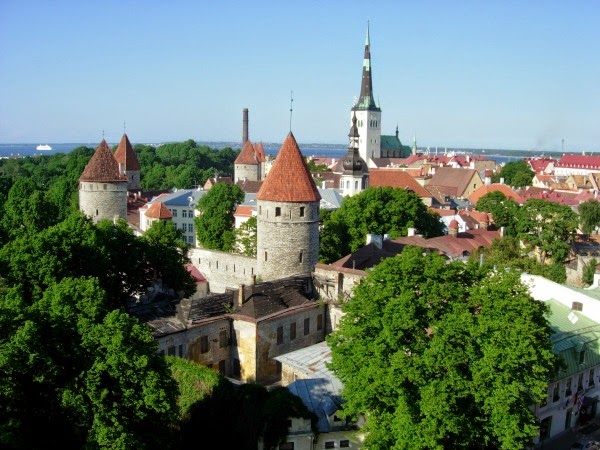 Our recent tour of three Baltic countries and their capitals was like taking a trip backwards into a long, chequered and often tragic history. Estonia's capital is situated almost opposite Helsinki in the Gulf of Finland and when we were there we saw the regular ferry which links the two cities, as well as a cruiser which had just disgorged its passengers into Tallinn. There is a long time-link with the Scandanavian countries, now seen as benign friends but in the past as invasive occupiers (the very name of the city means Danish fort).

On our first morning we wandered round the harbour and enjoyed the feel of a port which is host to many small private boats as well as liners.
Our excellent guide, Riina, for whom Tallin is home, led us through the old town. My attention flagged a little after two hours but I was impressed by the liveliness and dignity of the old city and its contrast with some of the more residential buildings in urgent need of repair. Later the two of us visiited the Historical Museum and again were made conscious of the mis-use of a country which in eight hundred years has had only had forty years of independence. Their history is marked by the aggression of the Vikings, the Hanseatic League, the Knights of the Sword (the Livinian Order), Denmark, Germany, Sweden, Britain and France (when Nelson unsuccessfully attacked the city during the Crimean War and, again and again, Russia.

We became aware during the whole of our week's tour, of negative feelings toward Russia – not of its people, we were told, but more the various administrations from Tsarist and Soviet Russia that have robbed the Estonians of their freedom. They have only been an independent country since August 1991. They then celebrated their freedom by rapidly gaining membership of the E.U. and jpoining the Euro. I think we were told that 30% of Tallinn's population of 360,777 come from Russia, and for over 40%, Russian is their first language.
We had an interesting tour of the wooded country around the city – 60% of Estonia is covered by forestry and we were made of conscious of industries based on wood when we were taken to two splendid baronial mansions, once the homes of the wealthy but now effectively museums.

In another more modest building we had a typical rural meal – more suitable for hard working peasants than privileged tourists. But the soup was wonderful!
Our first and memorable glimpse of eastern Europe, before we moved on to our next Baltic country and city.
B.R.