We spent a few days in Northern Ireland and Eire last weekend. We got to Malin Head and joined the tourists to see the Giant Causeway in the north, and visited the remarkable Corrymeela Community, meeting some of the volunteers there and learning more about a movement devoted to peace and reconciliation.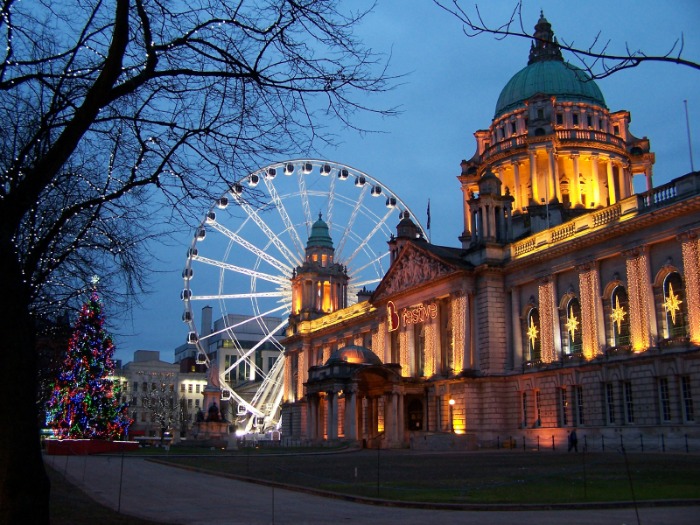 We were impressed with the Inishowen Maritime Museum and the extraordinary Famine Village (and much else there as well) on Doagh Island.
On our journeys we stopped at Londonderry where preparations were being made for a parade and we walked for a while along the wall. But before all that, we stayed a couple of nights in Belfast.
Our hotel was near to the University and the delightful Botanic Gardens. We had been told that the English might not be welcome, but everywhere we were greeted with warmth and courtesy, and when food was involved were almost too well fed. Both of us had been to Ireland before, but never to this city where memory is so important to its citizens and unresolved conflict is the way memory is often monitored. We had the benefit of meeting with a dear friend with whom we toured some of the streets and saw the signs of what sometimes felt like only a temporary truce.
We saw more union jacks (strangely at half mast) in a day, than we would normally see in a lifetime. Some of the curb stones had been painted red, white and blue.
This sense of unresolved conflict was reinforced by streets full of large paintings on walls and shops commemorating some of the bloody events of the troubles, identifying many of the people involved in them. We saw the Clonard Martyrs Memorial Garden with 83 names of people from a small area of the city who had been killed, the republican sympathies of the community that succeeds them claiming to be still under pressure. Many shops when closed are boarded up. Similarly the Police Stations we saw were like fortresses; and the huge walls which separate communities symbols of a separation that won't or will not be allowed to go away.

So, we didn't 'do' Belfast as tourists might, but had some insight to a history we have grown up with from the distance of the mainland. There are many attractions and some impressive buildings in the city which we shall have to catch up on another time. They include the Titanic Visitor Experience, the Clifton House Heritage Centre, the Linen Hall Library and many other signs of this flourishing but bruised city.
Bryan