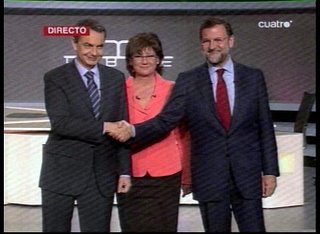 According to all polls carried out this morning by the Spanish media, José Luis Rodriguez Zapatero was the clear winner of the second, and final, election debate between the two main presidential candidates last night, just six days before the general election.
The Socialist party's strategy during this election campaign has been to combat the fatalism and criticism of the Popular Party with constructive proposals and promises for the next four years. Their electoral television ads try to portray optimism and to use the constant criticism received from the Popular Party to portray the opposition as a party of pessimists. Zapatero continued to follow this strategy last night, and arrived at the debate armed with dozens of "solutions" and policy proposals designed to address problems related to immigration, the economy, education, terrorism, domestic violence etc.

Mariano Rajoy, leader of the Popular Party on the other hand stuck to his party's strategy which has been to criticise the Socialist Government, and Zapatero himself, for the rise in prices, the state of the economy, immigration and for negotiating with ETA. This televised debate was more or less a repetition of the first one last week, and attracted over a million less viewers. The only difference was that Rodriguez Zapatero appeared to be more relaxed and firmer when responding to Rajoy's accusations, whereas Rajoy seemed less confident and more irritable.
At the end of the debate each leader was given three minutes to address voters. This is a translation of what they said:
Mariano Rajoy:
"If we act with realism, work and humility we will resolve current problems.

I want this to be a a legislature of consensus for all. I want Sapin to be a great nation of free and equal citizens. There are things that have not been done properly. I am going to offer the leader of the opposition an agreement to defeat ETA, not to negotiate with ETA. I will not be the president of the PP, but of all Spaniards. I will address the economy, fight against rising prices, unemployment and will make sure that as many women as men can work. We will lower taxes, we will make reforms. And in education merit and effort should be valued. It is very important that we concentrate on defeating ETA rather than making shortcuts. Ladies and gentlemen, the other day I spoke of a little girl, and I'm thinking of that girl, she is in my heart and in my feelings.

That girl is in my head" (Last week Rajoy surprised many political commentators when he used the allusion of a little girl in his closing speech to talk about the country he would like Spain to be).
José Luis Rodriguez Zapatero:
"I want to take advantage of this chance to express my gratitude to those Spanish people who put their trust in me in 2004. And to those who didn't. I want all Spaniards to know that both their support and their criticism have stimulated my efforts. I want to ask you for your support for a project for the next four years. A country is strong if it provides the same circumstances to all its citizens and if it supports the weakest. I am convinced that the economic growth should take us to full employment. I am convinced of the fight against climatic change and that our country should lead this new stage. I am committed to a Spain of unity and co-existence. For all these reasons I ask for your support and vote. I will govern firmly and with conviction. I will correct mistakes. I will govern with sensitivity and I will be very near those who have not got it all. Good night and good luck".