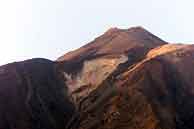 Spanish scientists monitoring volcanic activity in the Canary Islands have registered a definite increase in the number of seismic tremors registered in Tenerife over the past year. The location of the tremors, in the north-east of the Island, reveal that the volcanic behaviour has changed, although the scientists say it is too soon to say exactly how.
The volcanologists, speaking in a UIMP University Summer course on natural risks, said that unlike other kinds of natural disasters, volcanoes always give ample warning before an eruption. But the main problem they face in trying to work out exactly what the changes in Tenerife mean, is that in order to make accurate predictions, you need to be able to compare activity with records extending over a period of hundreds of years. And activity in the Teide volcano began to be monitored only 500 years ago "just one breath in the life of a volcano", according to the scientists.

Alicia Felpeto, volcanologist of the Jaume Almera Earth Science Institute said she believed she would see at least one volcano eruption in the Canary Islands during her lifetime.

The last time a volcano erupted in the Canary Islands was in 1971 when Teneguía erupted on the island La Palma. It was a very calm eruption which spread over two months with no major explosions involved.
As far as Tenerife is concerned, statistics show that the Island registers an eruption in one of its volcanoes once every hundred years. The biggest volcano in Tenerife, El Teide, has not erupted for 1,250 years.

The rise in seismic activity over the past year or so has led local authorities to make improvements to the systems of volcano surveillance on the Island. More advanced instruments will help scientists to understand better what the recent changes may mean.