Spain's tourist industry continues to thrive according to figures released today by the Industry, Tourism and Trade Ministry. In the first quarter of 2005 Spain received a record 13.6 million foreign tourists. This represents a five percent increase in international tourism compared to the same period in 2004 and, according to the Ministry, is the first time that more than 13 million tourists have visited Spain during the first four months of any year.
In April Spain received 4.2 million tourists from abroad, considered by the Ministry to be especially encouraging given the fact that this year Easter was in March, as opposed to last year when Holy Week was celebrated during April.
According to data put together by this latest survey carried out by the Ministry, the improved figures are largely thanks to the increase in the number of French tourists travelling to Spain. The UK and Germany are still ahead in terms of number of tourists who come to Spain, but France is closing the gap and comes a close third behind Germany.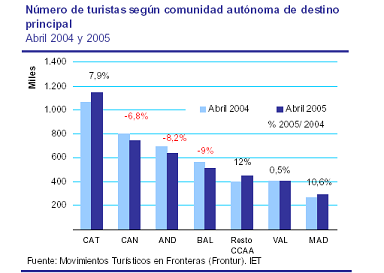 Catalunya heads the ranking of most popular Spanish region and in the first quarter 27.4 percent of tourists chose Catalonian destinations on the Costa Brava and inland. The Canary Islands was the second most popular region, followed by Andalucia and the Balearic Islands (light blue 2004, dark blue 2005).
Related links:
Beautiful places in Spain
Spanish paradors