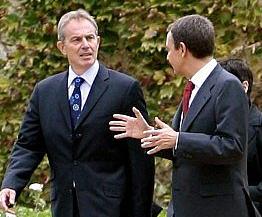 Tony Blair arrived in Madrid yesterday evening for a two-day official visit and gave José Luis Rodriguez Zapatero a boost when he endorsed the Socialist Government's controversial decision to start negotiating with the Basque separatist group ETA. When asked if he supported Zapatero's decision, he said yes, he did, because "it's always worth a try".
Ever since José Luis Rodriguez Zapatero withdrew Spanish troops from Iraq almost as soon as he was sworn in as President of Spain, relations between the Spanish President and British PM have been strained.

Especially since Tony Blair enjoyed a very close working and personal relationship with ex-President José Maria Aznar (as he also did of course with Silvio Berlusconi) whom he invited to London after the Spanish election result for what was one of Aznar's last official trips as acting President of Spain.
However, tension has eased over the past couple of years, some progress has been made on the future of Gibraltar, and the Spanish government was quick to offer and supply the British government with help immediately after the London train bombings, when they sent anti-terrorist police and detectives who had successfully investigated the Madrid train bombings to advise their colleagues in the UK.

Yesterday's joint press conference was an illustration of their improved relationship, and both premiers were relaxed as they answered questions. The main Spanish opposition party, the pro-PP section of the Spanish media and even ex-President Aznar have openly criticised the Socialists for their decision to talk to ETA following the ceasefire called by the terrorist group earlier this year.
But yesterday Tony Blair endorsed Zapatero's pro-negotiation policy "it is sometimes difficult, but it is the right thing to do", and offered his support. He also reminded reporters that he was criticised and called naive by certain sectors during the long peace process in Northern Ireland, but "if you believe in it, you just keep going".
José Luis Rodríguez Zapatero thanked the British Prime Minister for his support and confirmed that the peace process in the Basque country would continue but would inevitably suffer lows and reach highs.

He refused to confirm or refute the rumour that talks with ETA have reached a deadlock.
Tony Blair's visit concludes today after co-chairing, with Zapatero, a round-table meeting with directors from some of Spain and the UK's top companies, including BP, Vodafone, Barclays, Acciona, Indra, Ferrovial and Telefónica.
Related articles:
Meeting between Blair and Rodriguez Zapatero in Madrid
Gibraltar Agreement signed between British and Spanish governments