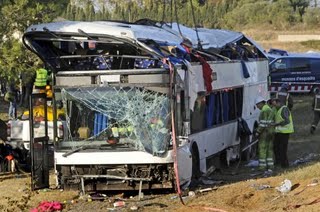 A Dutch student aged sixteen died this morning and 25 of her fellow passengers were injured when their bus crashed in the L'Escala exit of the AP-7 motorway in Girona. The coach driver lost control at a bend in the exit road, and the bus turned over.
The bus was transporting a group of 60 Dutch students and teachers on a school trip to Calella in Barcelona.
Police are still investigating the cause of the accident but a Catalan government spokesman told the media this morning that the bus driver, who is among the injured, had been given a breathalyser test and the results had been negative. The exit chosen by the driver was not however the exit usually taken en route to Calella, something which is also being investigated by police.

Firemen and rescue workers had difficulty in freeing some of the accident victims from the two-story bus who were trapped inside, and they said it was a miracle that only one victim had been killed. The injured passangers have been taken to local hospitals and two of them are described as being in a serious condition. The remaining students and teachers have been taken to their original destination, Calella.