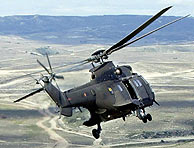 Spain's president Rodriguez Zapatero has broken off his Summer holiday and is on his way back to Madrid following the crash of a NATO Cougar helicopter in Afghanistan this morning in which 17 Spanish soldiers were killed.
Although Major Andrew Elmes, a spokesman for the international security assistance force in Kabul, said the cause of the crash and the emergency landing was believed to be mechanical failure, Spain's Minister of Defence, José Bono, told Spanish reporters today that the possibility that the accident had been caused by an "external attack" had still not been discarded.
According to Bono, in the first instance everyone thought it had been a simple accident, but "after studying a photo, we have observed that although the surrounding area is very mountainous, the impact of the crash occured over a flat area which is why we can not discard, for the moment, the possibility of an external attack".

The Defence Minister has announced his intention to travel to Afghanistan this afternoon and to oversee identification and repatriation of the bodies, presumably to avoid any repetition of the confusion and mistakes which led to misidentification of a number of the soldiers killed in 2003, when a plane bringing 62 Spanish peacekeeping troops home from Afghanistan crashed in Turkey, killing everybody on board.