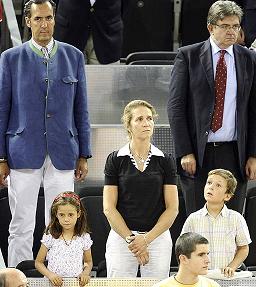 Duke and Duchess of Lugo have separated.
The Spanish royal family continues to dominate headline news in Spain for one reason or another and yesterday the Palace confirmed what has infact been a rumour for years, that their eldest daughter, Elena, Duchess of Lugo, and her husband Jaime de Marichalar had decided to separate or, in the words of the announcement "have agreed to temporarily end their matrimonial life". The Zarzuela said there would be no further official announcement.
The couple have been married for 12 years and have two children. After months of speculation, the Duchess of Lugo and her children finally moved out of the home in the exclusive Salamanca area of Madrid yesterday to a nearby address.

The Duke of Lugo is expected to retain his title and there appear to be no immediate plans to formalise the separation.
Elena is fourth in the line to the Spanish throne, after her younger brother, Felipe, Prince of Asturias, and his two daughters, Leonor and Sofia.