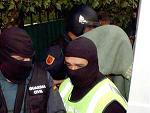 The Spanish Interior Minister confirmed minutes ago that the arrests made in Alicante, Murcia and Granada today have been carried out as part of an operation in Spain aimed at identifying groups linked to Al Qaeda.
Spanish police have made 10 arrests, and minister José Antonio Alonso appeared in a press conference this morning to confirm that all ten are related to a radical Islamic group called The Algerian Salafist Group for Call and Combat, considered to be the Algerian arm of Al Qaeda. All 10 suspects are accused of using drug trafficking and fraud to finance the terrorist group Al Qaeda.
Alonso said that police do not think that the suspects formed a military cell and so were not planning any new terrorist attacks in Spain. He did not discard the possibility of further arrests, because he said that the anti-terrorism police operation, was still open.

Alonso revealed that the arrests were the result of a 10-month secret investigation into the actitivities of the suspects.
During the operation, the Spanish civil guard seized drugs, documents and 35,000 euros in cash. According to reports, the men arrested formed part of a logistical support cell and maintained contact with other radical Algerian groups in Germany, Holland, UK, Belgium and Denmark.
Thirty civil guards were involved in the operation in Alicante, where 4 people have been arrested. In Torrevieja, just south of Alicante, 3 more Algerians have been arrested, two in Granada and one in Murcia.