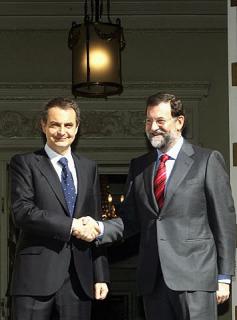 Spain's president Jose Luis Rodriguez Zapatero met this morning with Mariano Rajoy, leader of the Popular Party, in what most sections of the Spanish media are hailing as a possible end to the bitter relations which have existed between Spain's two main parties ever since the Socialists won the 2004 elections following the Madrid train bombings two years ago, a result which many members of the Popular Party still deeply resent today.
Since ETA's permanent ceasefire announcement last week, the narrow gap dividing the two main parties in opinion polls has widened in favour of the PSOE, and as support for Zapatero has grown notably among the Spanish electorate, the Popular Party has started to moderate the aggressive tones its leaders generally use when commenting government policy on just about every possible topic on the political agenda.

Even though the first official reaction of the PP following ETA's announcement was typically scathing, when the leader of the Basque PP Party claimed the ceasefire was the result of the constant concessions made by Zapatero to separatists, since then all except the most radical members of the PP have taken care not to be too critical. Zapatero's gesture last week, when he refused to make any comment to the media about the ceasefire until he had personally informed Congress the same afternoon, and used the occasion to offer full participation in the peace process to all political parties and particularly to the Popular Party, was received in a positive manner by the vast majority of political commentators on all sides of the ideological spectrum.

Apparantly King Juan Carlos rang Mariano Rajoy last week to ask him to support any peace process which could result from ETA's initiative. And yesterday for the first time since losing the elections, a press conference called by the PP to comment on the party stance after a session called by the leader to prepare his meeting with the Spanish president today, was chaired by a party moderate, rather than by hardline Acebes.
If today does mark the beginning of a thaw in the difficult relationship between Spain's main parties, then a large section of the electorate and the Spanish media will welcome the news. Both party leaders seemed to acknowledge that fact today when they spoke to the press after their two and a half hour-long meeting.

Zapatero told reporters that today represented "a good first step forward after nearly two years of notable differences". Rajoy was more cautious, saying that the only priority right now was that the Government has what it believes is ETA's firm decision to cease all criminal activity. He pledged his party's support "without party or ideological lables" to Zapatero, providing that there would be no concessions to ETA, no violation of current laws, no contact with terrorist or illegal organisations and no violation of Spanish state law.