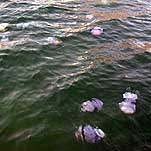 At this time of year it is quite common to see the odd jellyfish floating on the water along the Spanish costas and as September approaches the number usually increases. But this year a massive plague of jelly fish is affecting Spain's most popular resorts, and some beaches are so full of the floating animals that holidaymakers, sweating from the unusually high temperatures this Summer, are unable to have a pleasant swim in the cool sea.
During this period last year, red cross stations set on Spanish beaches had treated just 6 bathers with jellyfish stings. So far this August, 127 have been treated and according the El Pais, some beaches have had to raise the red or amber flag this weekend. A red flag means bathing is forbidden, and a yellow flag means bathers are advised not to bathe.

Usually the flags are used when winds create waves and currents which can drag swimmers out to sea.
Ecologists have warned that the sheer size of the jellyfish invasion this year is an indication of degradation and imbalance in the ecosystem of the Mediterranean Ocean. Jellyfish are 95 percent water. They feed on plancton, thrive in warm waters, and are eaten by marine reptiles such as turtles. According to marine biologists, global warming favours the proliferation of animals like jellyfish.
The drought in Spain this year has meant that less cool river water has reached the sea and as a consequence, the temperature of the sea around the Spanish costas has risen, which makes it easier for jellyfish to reproduce. Meanwhile, the rise in population along the Mediterranean, as more and more people choose to buy property near the sea, has caused an increase in residual waters which are poured into the sea, creating an excess in certain nutrients which the jellyfish feed on.

Finally, more than 25,000 sea turtles are trapped in illegal fishing nets each year, to such an extent that all kinds of sea turtles are now considered to be in danger of extinction. And there are less and less around to challenge the thriving community of Mediterranean jellyfish.
Ecologists claim that over the past 5-10 years there has been a clear drop in the number and variety of fish swimming in the Mediterranean because of overfishing and illegal fishing practices. And that unless measures are taken to readdress the current situation, massive invasions of jellyfish along the Spanish costas will become more and more common in the future.