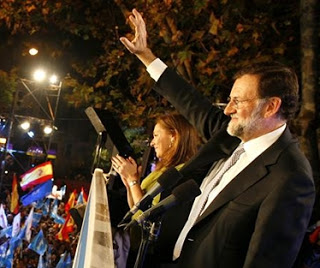 The Popular Party, as expected, won a decisive victory in yesterday's general elections, gaining more than 10.7 million votes and 186 (of the 350) seats in Parliament. This was Mariano Rajoy's third attempt as candidate for Prime Minister, and this time he led his party to a historic result. He improved José Maria Aznar's majority Popular Party win 12 years ago by almost half a million votes and three seats. The Spanish Socialist PSOE party registered it's worst ever result and lost 4.3 million voters comnpared to the last general elections. The left wing coalition Izquierda Unida made important gains, as did the Catalan Separatist Party, CiU, and the new Basque left-wing Separatist party coalition
So, Mariano Rajoy will be the next Prime Minister of Spain.

His first and most important mission will be to manage the worst economic situation in recent decades and to implement reforms intended to address the Spanish debt and to meet the deficit targets agreed with Brussels.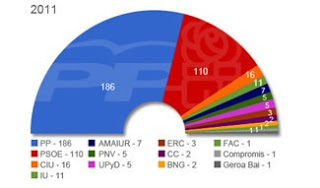 The Popular Party has won such a large majority that they will not have to rely on the support of any other parliamentary group to push their anti-crisis measures through.

During the campaign Rajoy refused to indicate the scale or the direction of the cuts his party intends to carry out or to reveal which party members would have ministerial posts. In his victory speech last night, Rajoy warned that the coming months would be far from easy and that Spain was at "a crossroads that will decide the future of our country for the coming years or decades".
Meanwhile, the PSOE party faces the challenge of rising from the ashes. Jose Luis Zapatero has said he will act to make the hand-over of power (which usually takes a month in Spain) quicker than usual, and the PM candidate, Alfredo Pérez Rubalcaba, has called on his colleagues to convene a Party congress to decide the new leadership. The Socialists won just 110 seats – its worst ever result.