A Spanish cruiser on its way to Barcelona with 474 passanger and 317 crew on board floated adrift its route yesterday when its four engines broke down in one of the stormiest days experienced by the Mediterranean this Winter. The cruiser tried unsuccessfully to enter the small port of Mahon in Minorca, closed by maritime authorities because of the 14 metre high waves caused by winds blowing at 100 km per hour.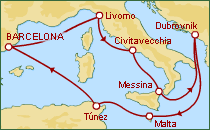 The Grand Voyager was sailing towards Barcelona when the storms caused the engine failure and the crew sent out an SOS which was answered by French maritime authorities and a British tanker which was nearby.
The storms damaged the cruiser's electricity, communications and propulsion systems and prevented rescue teams from accessing the boat. Towards the end of the day, members of the crew were able to reactivate two of the four engines and, as winds dropped slightly, the cruiser which had been due to arrive in Barcelona at two thirty pm yesterday, headed away from the storms and towards Sardinia where it is expected to arrive this morning.

Nobody was seriously hurt in the incident, although some of the passangers, most of whom are Spanish, are said to have suffered slight injuries possibly because of bumps caused by the movements of the boat. Iberojet said that as soon as the boat has docked in the Italian island passangers would be flown from Cagliari to Barcelona today.