This week the new-look Spanish congress was unveiled to the media to coincide with the start of the new parliamentary session. The technicians and maintenance workers at Congress have certainly been busy over the Summer break. Each MP has returned to find a brand new computer in his or her seat with full Internet access, email and a new automatic voting system.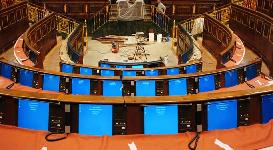 All 350 members of congress and government were able to try out the new system yesterday, and most seemed very satisfied according to declarations made afterwards. The whole process of wiring up parliament and installing the computers is part of the plan of Spain's flamboyant President of Congress (a role similar to that of Speaker of the House in the UK), Manuel Marín, to introduce technology and modernise the Spanish parliamentary system.

Marin aims to improve working conditions for MPs, reduce the amount of paper they continue to use and introduce Congress to the information society.
In an interview published by El Pais this Summer, Manuel Marin said he wanted to put an end to the continual races along corridors to hand in papers to the General Register – "For God's sake! All this can be done via Intranet! Why are we still running along corridors?"
The computers are equipped with an internal chat system, enabling members to talk with other members of their parliamentary group and other MPs. Each terminal also has access to ADSL so that MPs can plug in their own laptops if they prefer. They also have screens to display videos or documents as required.