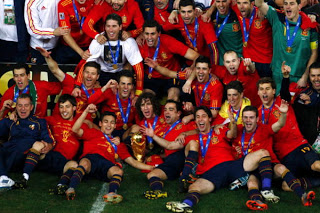 Spain, World Cup Champions 2010
The Spanish world cup winners are due to arrive in Madrid in a couple of hours and after a night of celebrations throughout Spain, fans are already gearing themselves up for the ultimate party when the team bus will parade through the streets of Madrid with the World Cup, before arriving at Real Madrid's Santiago Bernabeu stadium where, if they still haven't lost their voices, the Spanish players will address their fans.
Spanish streets were deserted from mid-afternoon onwards yesterday, as Spaniards prepared to watch the world cup final.

In the morning supermarkets witnessed a surge in sales of beer, crisps, nuts, pizzas and coca cola as thousands of families throughout Spain got ready to watch the match from home. Meanwhile large-screen stadiums were set up in all cities for those who preferred to watch the game surrounded by thousands of fellow supporters.
The match itself was quite a dirty affair, and the English referee bore the brunt of the fury of Spanish supporters and commentators when he missed several very nasty fouls on Spanish players, including one karate kick that landed on Xabi Alonso's chest.
When AT LAST Iniesta scored his goal the country exploded with joy and relief, fireworks were released, bottles uncorked, Casillas wept and Spain surrendered to a night of celebrations.

This morning the streets were deserted and in Euroresidentes this morning no-one has slept for more than 5 hours – and most for much less if at all. There is a general feeling of delight and disbelief as all television channels have devoted their morning programmes to poring over the details of the match, the celebrations.
The most talked-about video at the moment is not, however, the winning goal, or even the moment when Iker Casillas held the world cup over his head. The most talked-about moment is when Casillas broke down when being interviewed by his reporter girlfriend Sara Carbonero (whom a rather sexist section of the Spanish press blamed for Casillas bad form in the first round matches), and instead of continuing with the interview, and could not resist giving her a kiss for all of Spain to see.