Samuel Eto'o, Barcelona's popular striker, has criticised the 9000 euro fine imposed on Zaragoza football club for the racist monkey chants he was subjected to whenever he touched the ball by sections of the Zaragoza supporters last Saturday.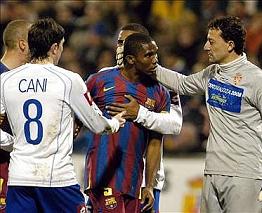 Eto'o was so upset by the continuous racist chants of the home fans, that 15 minutes before the end of the match he decided to abandon the game and started walking off the pitch towards the tunnel. TV camaras caught him say "Ya no juego mas" (I'm not playing anymore). But players from Barcelona and Zaragoza, aswell as training staff from both teams and the referee, managed to persuade the Cameroon player to continue, and justice seemed to be done when just a few seconds after the game was re-started Ronaldinho scored for the visiting team.

After the match Eto'o, who has spoken out before against racisim at football matches, confessed to reporters that he had been devastated by the behaviour of the fans.
When asked today for his opinion about the fine imposed on Zaragoza for the behaviour of the club's fans, Samuel Eto'o said that it was much too lenient and that punishments dealt out by the Spanish football association should go beyond fines and he insinuated that closing down the ground for a year could be one solution. Eto'o also said he thought that ordinary courts should deal with these kind of situations, rather than just the football association.
Eto told reporters that he suffered the same kind of racist chants last season in Zaragoza, and that while he understood that clubs cannot control all the fans present at a match, everyone in football should work together to try to erradicate the growing problem of racism in Spanish football.