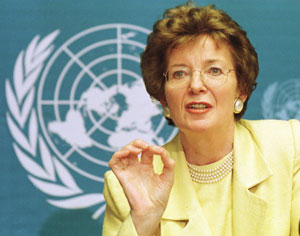 Mary Robinson awarded Prince Asturias Prize
The former President of Ireland has become the first ever woman to be awarded the prestigious Principe de Asturias prize for Social Sciences. During the ceremony, the jury underlined the "moral fibre" of Mary Robinson and her firm commitment to the defense of human rights.
Mary Robinson attended the award ceremony accompanied by British sociologist Sir Ralf Dahrendorf, US economist Paul Anthony Samuelson and former chairman of the Federal Reserve, Alan Greenspan.
The jury underlined Robinson's commitment to the "most noble" values, and her life-long dedication to attempting to overcome the many barriers that prevent so many men and women from enjoying full human rights. The jury also mentioned Robinson's efforts to achieve balanced international relations and introduce human values into a globalised world, by offering her unconformist, brave and wide-reaching voice to people who have no voice or cannot make themselves heard.

Mary Robinson served as UN High Commissioner for Human Rights from 1997 to 2002 and is currently Honorary President of Oxfam. She joins the growing list of other 2006 Asturias prize-winners. So far this year the following people or institutions have received the recognition of the Asturias Prize jury, chaired by Prince Felipe:
National Geographic (Prize for Communication and Humanities)
Bill and Melinda Gates (Prize for International Cooperation)
Pedro Almodovar (Prize for Arts)
Juan Ignacio Cruz (Technical and Scientific Research) and
Paul Auster (Literature).