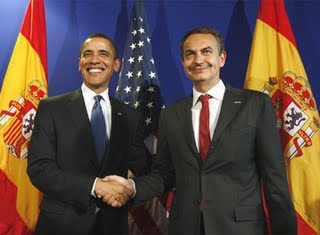 The US president, Barack Obama, will visit Spain next year in May in order to attend a summit meeting between the EU and US. The meeting will take place on 24th and 25th May in Madrid during the Spanish presidency of the EU.
The EU-US summit meeting will be one of the most important dates on Zapatero's agenda as EU president together with the summit meeting between the EU, the Caribbean and Latin America which is also due to take place in Madrid in May – a week before the EU-US meeting.
Another important event for Zapatero's as EU president will be the 2nd summit meeting of the Mediterranean Union which will take place over two days in June in Barcelona.

Spain is due to take over the EU presidency at the start of 2010.