The Royal Institution of Chartered Surveyors (RICS) has just published a study on Europe's housing markets, and concludes that housing prices in Spain, France and Ireland continued to rise by double figures during 2004 and that there is little evidence to suggest that markets could crash in 2005.
The executive summary of the RIC paper says of Spain, France and Ireland, "Each year for the past three or four years pundits have predicted that the following year would herald a market slowdown in the booming residential markets of Europe. Yet, the UK apart, the slowdowns have failed to materialse. Low interest rates, instead, have continued to feed beliefs that capital gains can still be made out of housing and, to an extend, they have become self-reinforcing"
The table below, taken from the RICS Executive Summary, shows the rise in housing prices in European countries in 2003 (grey) and 2004 (red).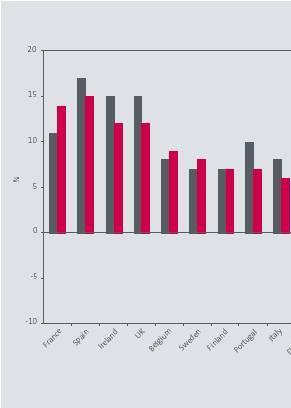 Unlike in the UK, low interest rates in Spain have helped to maintain the rise in housing demand, boosted by a steady increase in mortgage loans.

Real mortgage interest rates in Spain were negative last year, averaging just 3.49 percent in Autumn 2004, and rates are presently 4 points lower than mortgage rates in the UK. which is one reason why more and more British buyers are choosing to take out a mortgage with a Spanish bank.
The RICS European Housing Review 2005 was put together by Michael Ball, professor of Urban and Property Economics at the Department of Real Estate and Planning at the Business School at Reading University. The full report can be downloaded free from here.
Related:
Latest news and figures on the property market in Spain
Mortgages for non-resident house-buyers in Spain
Spanish banks
Mortgages in Spain