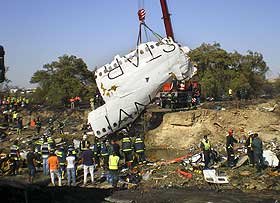 Judge in charge of Madrid airport Spanair crash investigation accuses two mechanics and head of maintenance of manslaughter and causing injury
Juan Javier Pérez , the Judge in charge of the investigation into the Spanair crash at Barajas airport on 20th August in which 154 people were killed has accused two mechanics and the head of maintenance of manslaughter and causing injury.
Juan Javier Pérez has indicated in his preliminary report that the cause of the accident in which the MD 82 aircraft crashed could have been the malfunctioning of the flaps and slats on the wings which were not in their correct positions on take off. His report also highlights the fact that the alarm to show this fault was not activated because the plane was in 'flight mode' and was therefore not correctly configured – something which was not detected by the mechanics which checked the plane.

In the preliminary report the judge points out that the MD 82 aircraft which crashed had abandoned its first attempt at take off due to a problem with the temperature gauge which does not rule out the possibility that this problem was a consequence or sign of a multifunctional fault in the aircraft given that the flaps and slats had also failed to spread correctly on 9th and 18th August.
However, Juan Javier Pérez concluded that arguments against this decision would be considered given that these accusations are base on the preliminary report by the Commission of Investigation.
Juan Javier Pérez also ordered that a parallel Commission of Investigation be set up in order to determine the causes of the accident on 20th August at Barajas airport.

He ordered that the new commission should consist of two pilots, two engineers and two mechanics. He ordered that the College of Pilots and the College of Aeronautical Engineers should each put forward a list of 30 professionals with more than 15 years experience and from these 60 names the judge would choose four. In the case of mechanics he ordered that the Ministry for Transport should put forward a list of 30 mechanics who are all experts in the MD 82 aircraft from which two would be chosen.