The Spanish government has launched a diplomatic offensive to try and find a solution to the ever-increasing number of immigrants arriving to the Canary Islands in boats from Africa. Yesterday Spanish Minister Foreign Affairs referred to the initiative as Plan Africa, and ministers are expected to approve the plan in their weekly cabinet meeting this morning.
Plan Africa involves sending Spanish diplomats to targetted African countries in an attempt to stop the numbers of immigrants arriving in Spain on small precarious boats. Numbers have risen at an alarming rate during the past few weeks and the Government hopes that opening Spanish embassies in countries from which the immigrants are arriving will make it easier to collaborate with governments in those countries and find joint strategies to tackle the growing problem.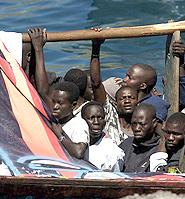 Yesterday in just one day nearly 600 Africans were intercepted in various boats on the coasts of the Canary Islands and 33 in boats near the coast of Almería.

Countless boats containing thousands of immigrants seeking a better life in Europe have been intercepted by Spanish police over the past few weeks, and the President of the Canary Islands has been critical of Central Government's response to a problem which has streched the resources of the Islands beyond capacity. According to the latest figures, 2,300 immigrants are waiting to be either sent back to their country of residence (the majority) or transferred elsewhere in Spain, depending on their individual circumstances.
Miguel Angel Moratinos has appointed Spain's former ambassador in South Africa to coordinate Plan Africa. From his new headquarters to be set up in Senegal, Miguel Ángel Fernández Maza-Rambroz will direct the work of the new embassies and consulates which the Government intends to open in several sub-saharian countries in Africa including Mali, Gambia, Green Cape, Bissau Guinea, Conakry Guinea and Niger.

During its two years in power, the Socialist Government has increased aid to these countries by 40% each year, but has been unable to influence their policies regarding illegal emigration of their people or to relieve the dreadful conditions many of the immigrants arriving to Spain are fleeing from. The Government hopes that by strengthening cooperation with a physical presence in strategic areas in Africa, it will be easier to address the growing problem with more positive results.
Related: