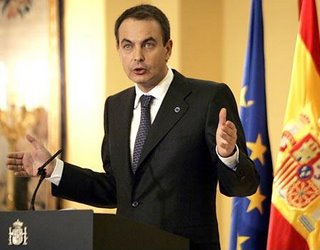 Spanish Government's Rescue Plan designed to boost consumer confidence
Yesterday the Spanish president, José Luis Zapatero, announced the creation of a fund of 30,000 million euros, which could rise to 50,000 million euros, to be used to support Spanish banks. Following a meeting with six representatives of Spain's largest banks at the weekend the Spanish president announced measures designed to bolster the confidence of Spaniards in their financial institutions.
Over recent months Zapatero's government has come in for heavy criticism for not taking action to offset the looming global financial crisis, The Minister for the Economy, Pedro Solbes, has been especially criticised and the government has been accused of being too passive.

However, this is no longer the case and a meeting with the main opposition PP party's leader, Mariano Rajoy, was announced last week in order to look for solutions to the crisis.
Although Zapatero was not invited to a meeting last weekend consisting of four of the G8 (Italy, Britain, Germany and France) he remained calm and said that he preferred to wait for solutions from Ecofin (the monthly meeting of the Finance Ministers of the 27 EU member states). However, following the announcement by Angela Merkel the German president last Sunday that the German government would guarantee all bank deposits just days after criticising the Irish government for doing the same Zapatero decided to take action to help the Spanish banks.
Therefore following 'black Monday' in stock markets throughout the World – Spain's stock market closed with loses of more than 6% – Zapatero decided that unilateral action was necessary.

The worsening global financial crisis forced the EU yesterday to raise the minimum guaranteed for bank deposits from 20,000 euros to 50,000 euros in the case of a bank collapsing. Just hours after this the Spanish government announced the state would guarantee bank deposits of up to 100,000 euros.
The measures announced by the Spanish government appear to have satisfied most people. Rajoy announced his unconditional support for the creation of a fund to support Spanish banks and the guarantee of up to 100,000 euro banks deposits, although he said that the plan needed to be monitored carefully as essentially it would be spending Spanish tax-payers money.
This Friday Zapatero will be meeting with his French counterpart, Sarkozy, to discuss further possible solutions to the global financial crisis which is now affecting the European banking system.

They will probably also discuss Gordon Brown's surprise announcement this morning that the British government plans to partly nationalise UK banks as part of its own rescue effort.